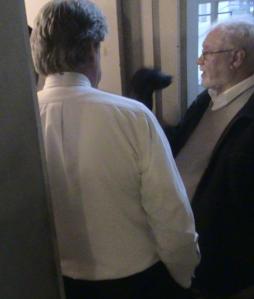 That's Bronx Democratic County Leader Jose Rivera talking to one of Christine Quinn's top aides, Chuck Meara, by the side staircase in City Hall a few minutes ago.
Rivera is here, primarily, to oversee the vote on city clerk nominee Hector Diaz. The nomination is being considered by the Rules Committee, whose chairwoman, Diana Reyna, is part of the Brooklyn delegation that wants the position to continue to be held by someone from its borough.
Rivera told me, "I have been working on this since before Vito Lopez became [Brooklyn County Democratic] leader," but added, "He has every right to fight for his borough."
While chatting with Rivera, Reyna and a few other council members walked past us. Rivera kissed her hand and asked how things were going. She said "fine," and continued walking, which Rivera said he sees as a sign that he's going to get his way.