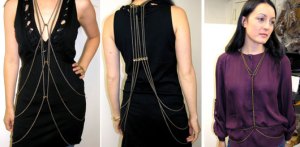 At a recent party in the Bowery Hotel, Elissa Dunlop, a bathing-suit designer in her twenties, was wearing a silky orange blouse accentuated with a delicate chain harness crossed over her chest."Whenever I wear it, people always stop me and ask, 'What is that?'" said Ms. Dunlop, glancing down at her bodice. "There is a bondage quality, but I'm more on the feminine side, so it's a nice contrast."
Variations of these harnesses, designed by one Bliss Lau, have been draping the breasts, torsos, shoulder blades and hips of New York City women in increasing number. "I feel really powerful when I wear one," said Risa Knight, an exuberantly tattooed stylist, calling from L.A., where she was visiting for a shoot. "It makes you feel sexy. It's kind of bitchy." Ms. Knight said she owns about 80 percent of Ms. Lau's collection—which includes 16 styles of brass chains tinted antique gold or pewter and that retail from $185 to $695—and has used them on clients such as the actress Mary-Kate Olsen and the singer Regina Spektor. "I have bondage stuff—that I wear, I don't use it—and I feel it's cheesy," Ms. Knight said. "Bliss' stuff is chic and classy, that's where the power comes from. You wear it, and, I don't want to say the F-word, but it's like, 'F*ck you! I'm wearing this. And it's hot!'"
The chains have been sold since early last year at small venues like the popular East Village boutique Funky Lala, where MIA blasts over loudspeakers and shoppers are handed a glass of Champagne upon entry. (Two chains were recently shoplifted from Eva, a store in Nolita; perhaps the perpetrator imagined the mode of acquisition would accentuate the jewelry's bad-ass element). "You can rock this with a wife beater and jeans going to get a beer, or do it up and wear it to the Oscars," said Lala's owner, Angela Lowe, brandishing a simple pewter number.
One might envision Ms. Lau as a vixen designer clenching a crop betwixt her teeth, toiling away in a studio as a Helmut Newton type snaps away, but she's actually a sunny, petite, mellow 27-year-old from Hawaii: a classic beauty of Chinese and Irish descent with long, black hair. In her fluorescent-lit basement studio in Noho recently, Ms. Lau was wearing funky, gray Chie Mihara shoes, skintight jeans and a purple blouse—accentuated, of course, with one of her golden chain creations. Until now, she has been known primarily as a handbag designer, most notably of the cult favorite the Accordion Bag. "I've been obsessed with leather, forever," she said. During one late working jag, she started stitching leather scraps onto a stray brass chain. Suddenly inspired by her own lovely clavicle, she created her first harness, which highlighted the collarbone.
Valentino Vettori, co-owner of Scatola Sartoriale, a showroom that carries primarily Italian designers and Vivienne Westwood, saw it on a designer friend, Lauren Felton, called Ms. Lau, and said he wasn't interested in her bags, but wanted her to create a collection of her jewelry. "I spent hours and hours in the middle of the night with my mannequins and chains, draping," Ms. Lau said. "I made some really weird, crazy stuff. I was running around screaming and dancing."
She has reluctantly begun describing the pieces as "body jewelry," for lack of a better phrase. "It's, like, such a cacophonous word!" Ms. Lau said. "I feel like it says piercings and nose rings, belly chains—Mariah Carey, eeew, no!" In one motion she unlocked her necklace and wrapped it around it around her hips to demonstrate its multifunctionality. "It's really just a new conceptual way of thinking about how to wear jewelry."
As an assistant silently measured out brass chains in the corner, Ms. Lau glided around dress forms, tables piled with bags, and leather-laden shelves, pulling out pieces from her spring collection with names like "Pony Tail Top," "Crossmyheart," "Bolero" and "Loop Vest." Barely visible rivets and leather tabs strategically connect arcs of chain in Ms. Lau's subtler designs, while a butchy slab of leather running up the spine connect heavier chains in her dramatic "Cape." One harness, "Ornament," has its collar and hip chains linked by vertical torso chains: one up the front, four down the back. New spring leather colors are fuchsia, white and purple. Tags illustrate the different ways to wear each chain.
"It's inevitable that it's going to be perceived as bondage-inspired because it's metal and leather," Ms. Lau said. "I did start off with a very bondage-heavy concept; it's kind of softened a bit. Some pieces more than others." She picked up "Sleeve," a slab of leather that rests over the shoulders, connecting webs of chains, like a shrug. "This is pretty wild. I mean, this isn't your average girl. But it's fun, it's about not taking it so seriously."
"Some buyers say, 'It's a little sadomasochist,'" said Herman Solomon, Ms. Lau's rep at Scatola. But who ever said New York women were about angora pom-poms, huh?
"You need to have a strong personality," said Ms. Dunlop, the party guest, "to wear something like this."