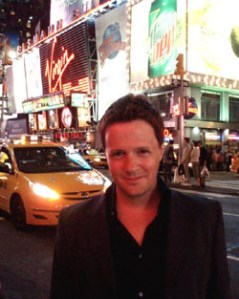 In the spring of 2001, Chez Pazienza was sitting in his apartment in the West Hollywood neighborhood of Los Angeles, smoking heroin and watching The Filth and the Fury, a documentary about punk legends the Sex Pistols, when he realized he had a problem.
At the time, Mr. Pazienza was an ambitious young producer running the 11 o'clock news for Los Angeles' NBC affiliate KNBC. Ratings were up. His anchor drove a Ferrari. The job was good—great.
But Mr. Pazienza's marriage was falling apart. And as he listened to Sid Vicious describing the sensations of heroin withdrawal, Mr. Pazienza finally acknowledged his own raging addiction. "I was like, okay, I'm screwed," Mr. Pazienza said. Shortly thereafter, he checked into rehab.
On the afternoon of Feb. 22, Mr. Pazienza, now 38, was sitting in front of a plate of skirt steak and pommes frites and a glass of pinot noir at Upper East Side bistro Paris Match, recounting the past decade and a half of his life: falling into television news (his father's trade), getting hooked on heroin, kicking heroin, surviving a brain tumor and, in recent weeks, kicking his TV news habit.
Of course, this time it was the habit that kicked him.
On Feb. 10, Mr. Pazienza, who was working as a producer on CNN's American Morning, wrote an item for the Huffington Post about the suspension of MSNBC anchor David Shuster over his now infamous "pimped-out" comment about Chelsea Clinton. He called Mr. Shuster's on-air apology "an act of ass-kissing theater" and his official reprimand by NBC News president Steve Capus a "comical twist" in the tale, coming from "the same man who turned ethical somersaults on national television last year to justify his network's shameful decision to air the manifesto of Virginia Tech gunman Seung-Hui Cho."
Shortly thereafter, CNN executives caught wind of the piece, and—surprise!—fired Mr. Pazienza.
Mr. Pazienza says he was ready to go anyway—despite the fact that he and his second wife are expecting their first child in August.
"CNN, by shit-canning me, has done me the biggest favor on earth," he said. "I'm free."
Free, in the short term, to write whatever he wanted for his blog, Deus ex Malcontent, and on the Huffington Post. Last week, it was a detailed behind-the-scenes account of his dismissal from CNN that quoted Henry Rollins for inspiration and argued that the TV news profession has "lost its way."
And free, in the longer term, to begin his process of public reinvention with a 326-page memoir, now a completed manuscript, tentatively titled (props to Soundgarden!) Blow Up the Outside World.
The compact, brown-haired producer was wearing a gray cotton sweater, the sleeves of which covered his T. S. Eliot-tattooed arms, bearing the legend "murder" (in Egyptian) on one forearm and "create" on the other, as he lifted them to drink his wine and describe the book.
"No, I'm not James Frey, but I do have a different way of looking at the problem," said Mr. Pazienza. "I drink."
He nodded at his glass of wine. "I don't drink very often," he said. "But I am not someone who feels like because I have a drink here and there that I'm going to have a crazy downward spiral. If I come out of rehab feeling like I'm going to spend the rest of my life tiptoeing around certain things, why bother?"
Like Matt Taibbi of Rolling Stone, whom he classed, along with Sex, Drugs and Cocoa Puffs author Chuck Klosterman, as one of his favorite writers, he grew up the son of a just-the-facts newsman, Ralph Page, a former cop-turned-investigative reporter and famous South Florida TV crime buster.
But he hadn't planned on a journalism career, he said. At the University of Miami, he majored in film. After college, when his band, Coral Gables, broke up, Mr. Pazienza took a job as a delivery guy.
One day he dropped off a tape at WSVN—the legendary Fox affiliate in Miami, which over the years has employed a range of now famous talents, including current Fox News star Shepard Smith, programming guru Joel Cheatwood and bikini-photo-e-mailing cop-puncher Alycia Lane. Mr. Pazienza saw a help-wanted ad. He applied, got the job and ascended fast.
"All of a sudden, I had a career that I was really good at," said Mr. Pazienza.
Fast-forward to that scene in his West Hollywood living room, watching Sid Vicious watching him smoke heroin.
Mr. Pazienza got out of a gnarly public rehab clinic in Miami in the fall of 2001, uncertain of what to do next, and right before the Sept. 11 terrorist attacks in New York. Not long afterward, he reverse-migrated, packing up his car for the drive to New York. If he couldn't find a job reporting on the tragedy, he'd hand out water on the Pile.
On the way, he called a former colleague from Miami, who had graduated to a managerial job at MSBNC.
"Before I even got there, I got a phone call from his secretary saying, 'We have a place for you, we have a job for you, we need freelancers,'" Mr. Pazienza said.