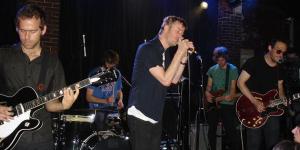 >> The National, Feb. 22-23, Brooklyn Academy of Music (sold out)
"No way! A 2,500 seat theater!" said The National's Bryce Dessner, sounding more like one his band's teenage fans than a well-traveled 34-year-old guitarist. He was calling from Ditmas Park—a few neighborhoods south of the Brooklyn Academy of Music where his brooding hometown band will take the stage for two sold-out nights tonight and tomorrow night. "It's just not something we would have considered."
After seven years of playing to tiny numbers at tiny bars and record stores, the National have finally and truly gone national—even if this weekend's performances, part of the Academy's Brooklyn Next festival highlighting local musicians, is only the beginning. This summer, the National will take to the arena circuit, opening for R.E.M. and Modest Mouse. "I don't know how we'll be playing in stadiums," said Dessner, whose friend and neighbor Sufjan Stevens contributed to the album, "but at least we'll be able to hear good bands after we're done." Who's the modest one, now?
It was all foretold last May, when the National's fourth effort, the soothing, melancholic Boxer, climbed to number 68 on Billboard's Top 200 and later, number five on the Top Independent albums of 2007. (None of their first three albums, their self-titled debut in 2001, 2003's Sad Songs for Dirty Lovers, or 2005's Alligator, cracked the list, despite plenty of critical acclaim.) Meanwhile, "Slow Show," off the album, was featured on NBC's Chuck and the CW's One Tree Hill. Dessner believes that it was the National's many years outside of the spotlight that have allowed them to capture it now.
"We've been able to do what we want to do and not necessarily think about how it's going to be received, which I think is really healthy," said Dessner. "We've been able to develop our music gradually, as opposed to some bands that explode and there's a lot of pressure for a second record."
A classically trained guitarist, Dessner spent time studying in Paris, returning to the states in 1999 to join the National with his twin brother Aaron Dessner, singer Matt Berninger, and a second pair of brothers, Scott and Bryan Devendorf. ("More often than not what I do in the National is quite simple, but there is something in the sound that does relate a little bit to classical.") At the time, they had little interest in seeking out strangers to release their albums, so they founded Brassland Records with music journalist Alec Bemis in 2001. While Dessner's other band, the Clogs, are still represented there, The National have since found a home at UK label Beggars Banquet Records, the label that launched the careers (itself or through daughter labels formed over a 30-year span) of Gary Numan, the Pixies and Tapes 'n' Tapes, to name a few.
"The Beggars [deal] was like a dream," he said. "They're still an independent label and really creative and really open-minded and they let us do what we want." And signing with an independent label is not without its financial rewards, too. "If a record sells a little bit, you can make a lot more money than you would if you were on a major label."
So, this happy rock 'n' roll tale doesn't end with a major label deal?
"We don't even take meetings with them when they call."