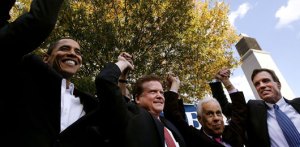 To the early list of possible running-mates if Barack Obama is the Democratic nominee, add Mark R. Warner.
Warner is a frighteningly logical pick for the VP spot, with the seemingly insurmountable catch that he committed to running for U.S. Senate from Virginia as soon as Republican John Warner announced his retirement in early September.
But apparently, there's some wiggle room there.
At a private fund-raiser for a nonprofit organization in New York yesterday, Warner was asked by an attendee about his interest in being a Democratic running mate. In response, he said he was commited to the Senate race, but also noted that he never rules anything out.
And a Virginia investor and influential Warner supporter I spoke to afterward seemed to reaffirm the idea that the VP idea was in play. "I can't imagine that he'd rule it out," the supporter said.
With Warner in the Senate race, national Democrats have been penciling in the Virginia contest as an almost-guaranteed Senate seat pickup, a rare opportunity for a sweat-free incursion into traditionally Republican turf. A former governor with stratospheric favorable ratings, Warner leads his presumed Republican opponent, former Governor Jim Gilmore, by at least 20 points, a margin that probably won't shrink much before Election Day. (There's a remote chance that Bob Marshall, an ardent abortion foe in the Virginia House of Delegates, could beat out Gilmore at the G.O.P. state convention this spring.)
But a perfectly plausible scenario exists that would enable Obama (assuming, of course, that he's the nominee) to tap Warner—something that would instantly enhance the Democratic ticket's prospects of carrying Virginia and its 13 electoral votes for the first time since 1964—while preserving the party's strong position in the Senate race.
Warner, 53, would bring more than just his home state popularity to an Obama-led ticket. He would also provide the executive experience missing from Obama's résumé, and in a campaign in which the economy is increasingly taking center stage, Warner's business background—he amassed a fortune investing in technology companies and helping to launch Nextel—would boost the ticket's credibility on the subject. And as a centrist with a knack for winning Republican support, his presence could make Obama viable even in some Southern states.
More to the point, Warner and Obama are in many ways cut from the same stylistic cloth. They're both believers in a less ideological, future-vs.-past type of politics. Warner's signature gubernatorial achievement was a tax reform package that raised rates for some in order to preserve the state's bond rating and to create new revenue for public education. In a tax-phobic state, he enlisted crucial support from business leaders and Republicans—including Senator John Warner—to push the plan through the Legislature.
When Virginia's one-term limit forced him from office at the end of 2005, his approval rating stood near 80 percent—one of the main reasons Democrat Tim Kaine was able to win a narrow victory to succeed him.
But what about that pesky Senate race that Warner committed himself to?
It's actually not too complicated. Here's one scenario: Obama secures the nomination in the near future and makes an early announcement that Warner is his running mate—sometime before June, when Virginia's Democrats will pick their nominee, probably at a state convention (they may also call a primary).
Or Obama could just as easily tap Warner over the summer (the Democratic convention isn't until August), in which case Warner would simply vacate his Senate nomination. Virginia law allows candidates to withdraw up to 60 days before an election (September 5 this year), with their state party picking a replacement.
In either case, Virginia Democrats would have two clearly viable replacement options for the Senate race, each of whom would be favored to win the general election.
The most obvious replacement would be Kaine, whose own gubernatorial term runs through 2009. Kaine enjoys strong statewide popularity and would almost certainly defeat Gilmore, the Republican. But there are problems.
One risk would be a potential backlash against Kaine for trying to leave his job in the middle of his term. Also, it's far from clear that he'd even be interested in moving to the Senate.
There are signs that Kaine is himself interested in the VP slot under Obama. He was among the first governors to endorse Obama and was a prominent player in his candidate's 30-point landslide in the Feb. 12 Virginia primary. But choosing Kaine for VP might actually cause more headaches than picking Warner, mainly because Virginia's lieutenant governor, Bill Bolling, is a Republican who was narrowly elected over Democrat Leslie Byrne in 2005. If Kaine were to win the vice presidency, Bolling would succeed him in the governorship—providing the Republican with an invaluable leg-up in the 2009 election. This same logic could also complicate any interest Kaine might have in replacing Warner as the Senate candidate.
But if not Kaine, Warner would find an able, willing and popular Senate replacement in Don Beyer, who served as lieutenant governor from 1989 through 1997, when he narrowly lost the gubernatorial race to Gilmore. A businessman from northern Virginia, the 57-year-old Beyer has eyed a return to elected politics since that '97 defeat (an upset loss brought about by the late success of Gilmore's anti-car-tax campaign) but hasn't taken the plunge. He was prepared to run for the Senate this year had his close friend Warner not decided to enter.
Even though he lost to Gilmore 11 years ago, Beyer would be well positioned for the fall. First, Gilmore's governorship (from 1997 through 2001) isn't remembered fondly by Virginians, and he further hurt his reputation by waging an abortive and aimless presidential bid last year. And in the intervening decade, the state's demographics have continued to shift in the Democrats' favor. The party has now won three of the last four statewide elections.
Beyer would also be well funded: He was Warner's national finance chairman when he explored a presidential bid in 2006 (when Warner's PAC made waves with its fund-raising) and has been raising money for Obama this year.
But the biggest boost to Beyer—or any other replacement candidate—would be the fact that Warner would still be on the ballot, at the top of the ticket with Obama. That means that Democrats might actually be favored to carry the state—perhaps lopsidedly—at the presidential level for first time in decades, a windfall that would surely trickle down the ballot.
It's also worth noting the overlap between Warner's political universe and Obama's. Warner himself hasn't endorsed anyone for president (because of his status as a Senate candidate), but his wife chaired a "Women for Obama" committee in Virginia. And when Warner opted not to run for president in the fall of '06, most of his top financial backers—Beyer included—shifted their allegiances to Obama, who was then on the verge of entering the race.
Warner cited family considerations when he backed out of the presidential race. But a three- or four-month sprint in the general election would be far different from the two-year grind that he passed on in late '06.
Watch him closely.