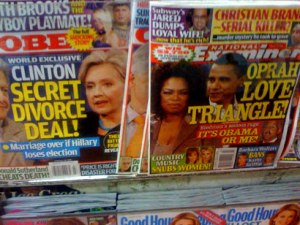 Remember when Al Gore's alien wolf-baby and Laura Bush's secret lovenest were on the cover of the low-end supermarket tabloids back in the summer of 2000? No? Well, this year's election is at last being given the vote of confidence by the masterminds at the Globe and the National Examiner, both publications of American Media Inc.—corporate home to Star, Sun and… Fit Pregnancy.
The non-dueling publications' dueling covers were recently turned over to the Hillary and Bill Clinton Shocking Divorce Agreement and the love triangle that Barack and Michelle Obama are clearly having with Oprah Winfrey. This may not mean much in terms of, say, facts. But it does mean that AMI thinks that America wants to snap up these stories.
The Examiner has lost newsstand sales and raised prices for each of the last three fiscal years, according to the company most recent annual report filed with the SEC. For the fiscal year ending March, 2007, that paper's single-copy circulation was 784,500; the Globe's is about half that. (That filing also included this sentence: "As of June 30, 2007, our total principal amount of outstanding debt was approximately $1.1 billion." Yikes!)
But maybe Obama and Clinton can help! Of course, neither paper has unerring news judgment. This week, the Globe is fronting "What Really Killed John Ritter!" (um, an aortic dissection) with accompanying stories on Heath Ledger and… Delta Burke? Apparently she has a battle with mental illness.