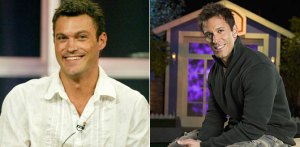 MONDAY
Everyone deserves a second chance, right? Well, tonight, America has the privilege of witnessing two, as Monday nights turn into a bad episode of We Love the '90s come to life. Last week, Brian Austin Green made his debut on Terminator: The Sarah Connor Chronicles for a stay of indeterminate length. Here's the deal, Brian: We'll forget how you strained your acting skills fawning over Tori Spelling on 90210 for just long enough to give you the opportunity impress on your new gig [Fox, 9 p.m.]. So far, we've learned that he takes a beating well. It's a marketable skill!
Yo! Yo! Yo! Guess who else is back … Yes, none other than Dan Cortes. The former host of MTV Sports has returned as the host of My Dad Is Better Than Your Dad [NBC, 9 p.m.], a reality series that sets out to prove just that. Mark Burnett, producer, offered him the job after he promised to leave the bandanas at home.
Potential buzzkills? Girlicious [CW, 9 p.m.], presented by aspiring has-beens the Pussycat Dolls. Fifteen women will compete to complete a female musical trio. If only Cindy Crawford were a contestant …
TUESDAY
The Democratic primaries have proven to be such cable Viagra that IFC has taken to covering them [IFC, 8:30 p.m.]. Tonight's is in Wisconsin. Of course, American Idol's primary, of sorts, will capture the lion's share of viewers, with the top 12 men performing [Fox, 8 p.m.]. If only Barack Obama and Hillary Clinton could carry a tune …
Bonus: Jennifer Coolidge (Best in Show) guest stars on the finale of Nip/Tuck [F/X, 10 p.m.]. She's always amusing, so there's that.
WEDNESDAY
America's Next Top Model is back [CW, 8 p.m.], offering Tyra Banks a tenth opportunity to endorse a model she doesn't believe is worthy of the title. They don't make models like they used to, eh, Tyra? On a related note: Perez Hilton dishes on pop-culture divas on his delightfully titled VH1 special, What Perez Sez About Divas [8 p.m.]. Don't ask me how or why, but this show will last an hour.
Season four of Project Runway isn't over yet, but that doesn't mean it's too early for a reunion, which no doubt will give them some time to produce the episode filmed during fashion week earlier this month [BRAVO, 10 p.m.]. It promises to be fierce.
THURSDAY
Does American Idol [Fox, 8 p.m.] take some sadistic pleasure in undermining the country's interest in politics? Fox scheduled Idol's first results show for tonight, going head to head with another showdown between Hillary and Barack [CNN, 8 p.m.]. Few sparks flew last time, but here's hoping they return to their pre-South Carolina primary debate form in Texas. Screw the Democratic Party! Be entertaining, please.
FRIDAY
CBS brings The Price Is Right back to prime time [8 p.m.]. Bob Barker must be rolling in his grave. Oh, he's still alive? Awkward …