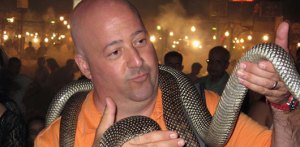 MONDAY
For the last six weeks, NBC has lorded over Monday nights with the consistent popularity of game show Deal or No Deal [8 p.m.]. (Last Monday's episode was its most-viewed in over a year with 16.8 million people tuning in.) The streak will likely end tonight, when ABC airs the made-for-television adaptation of Lorraine Hansberry's A Raisin in the Sun [8 p.m.] starring Sean Combs, Phylicia Rashad, Audra McDonald and the rest of the cast from the 2004 revival. Dennis Harvey, in the blue-collar prose typical to Variety, calls it a "sturdy translation." Talk about faint praise!
Meanwhile, if Raisin fails to play the part of streak-killer, the March 17 return of How I Met Your Mother [CBS, 8 p.m.] and The Big Bang Theory (the two will be switching time slots) and Two and Half Men [CBS, 9 p.m.], each with nine new episodes, should. Three weeks have never felt so long.
E!'s coverage of the Academy Awards started at noon yesterday, eight-and-a-half hours before Jon Stewart even took the stage. And it's not over! At 8 p.m., the "Fashion Police" discuss the red carpet winners and losers … for an hour. Then at 9 p.m., it's "Red Carpet Beauty Secrets Revealed." Man, isn't it great the strike ended? Yeah, um …
TUESDAY
In what will some day been seen as TV newsmagazines' last gasp, ABC has essentially repackaged Candid Camera as "What Would You Do?," an ABCNews Primetime special which premieres tonight [10 p.m.]. The show will put people in staged situations, like witnessing someone shoplift or vandalize a car, to see how they react. The network promises a "startling lesson in human nature—a lesson that may shock you." Oh no.
Meanwhile, Andrew Zimmern, the host of Bizarre Foods, does some pretty shocking things—well, he eats some pretty shocking thing, at least. Zimmern does not have the classic good looks or the charismatic personality of your traditional TV host, but he makes up for it by eating anything and everything, making Fear Factor look like child's play. In anticipation of the second season, we are treated to highlights from the first [TRAVEL, 10 p.m.] Bon Apetit!
WEDNESDAY
It's the return of Derelict! Remember the fashion line from Zoolander based on homeless people? Well, America's Next Top Model moves its new contestants into their New York digs [CW, 8 p.m.] and then promptly dresses them up as people with no homes. How ironic and, um, offensive? Maybe! That's where the fun—and fashion, of course—comes in.
Even Project Runway [BRAVO, 10 p.m.] designers, who, it is clear from last week's reunion show, are either crazy before or are driven crazy by the competition, wouldn't come up with something that fierce for the show's finale, the first part of which premieres tonight. Can anyone stop the little sprite, Christian? Probably not.
THURSDAY
NBC has bought six more episodes of Lipstick Jungle [10 p.m.], perhaps, in part, to compete with the growing popularity of latecomer Eli Stone [ABC, 10 p.m.], which largely thrives off of the tremendous lead-in of Lost [ABC, 9 p.m.] With Cashmere Mafia out of the picture for now, it's time for the Candace Bushnell produced program to really sink its perfectly manicured nails into its audience.
For the more high-brow inclined, the North Korean performance of the Lorin Maazel-led New York Philharmonic will be shown as part of Great Performances [9 p.m.] tonight. It must have been Kim Jong-il's reward for topping this year's list by Parade of the top ten worst dictators. Attaway, Kim!
FRIDAY
20/20 [ABC, 9 p.m.] and Dateline NBC [9 p.m.] go head-to-head with very special two-hour editions. Chances are they'll wake up Saturday, and regret what they did Friday night, just like millions of other Americans.