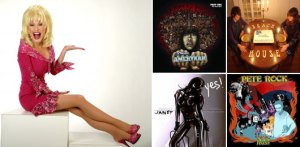 When reports emerged a couple of weeks ago that Dolly Parton had to postpone an upcoming tour due to back pain caused by her enormous breasts, it seemed that the Parton sideshow would once again overshadow the real Parton, the singer who bravely, and successfully, tackled bluegrass a decade ago when the country establishment had basically shunned her. (No Jack White necessary for her comeback!) Parton, however, is too versatile an artist with too strong a personalty to be defined by any one thing, including a humongous set of knockers. (Pamela Anderson, she is not.) For starters, she's a rather sound businesswoman: Ms. Parton plans on releasing her newest album, "Backwoods Barbie," on her own label (Dolly Records, of course), which she created for this very task. It may be the "first mainstream country record Dolly has done in 17 years," as her manager put it, but Ms. Parton has learned some new tricks, both musically and professionally. Rest those "puppies," hon, you're gonna be busy!
There is no shortage of music by divas today, as Janet Jackson and Erykah Badu release albums, as well. On Discipline, according to allmusic.com, Janet " takes the S&M imagery further, and more deeply personal, than she did on The Velvet Rope" (Um, what's my safe word?), while Erykah Badu's first true album in eight years, New Amerykah, is poised to make believers of everyone, again.
You had me at "bands like Mazzy Star, Galaxie 500, Spiritualized, and Slowdive will come to mind, but this is neither pastiche nor homage." It's a quote from Pitchfork's rave review of Beach House's self-titled debut in 2006. Clearly the Baltimore duet of Victoria Legrand and Alex Scally have had the street cred and the depth from the get-go. Now, it's time to see if they have the breadth. Judging by the hypnotic and whimsical video for "You Came to Me," off their new album, Devotion, they are about to prove just that.
Pete Rock has been producing hip-hop albums since the early '90's, working during that time with such legendary New York native sons as Run DMC and Nas, amongst others. His latest album, NY's Finest, celebrates the rich tradition of big-apple emcees (and killer beats)—it features appearances by LL Cool J, Ghostface Killah, Raekwon, MF Doom, Redman. For anyone curious about the mysteries of hip-hop producing, in the video, he gives a little glimpse into his creative process, finishing it off with an impressive sampling of Pat Banetar's "Love Is a Battlefield." Nothing will make you feel so old and so young at the same time.
It's hard to get a handle on British pop artists Goldfrapp. Once you think you've got them all figured out—experimental! electronica! dance! rock!—they go and change on you again. Their latest, Seventh Album, offers another round in their "evolution," as they ditch everything for lush folk ballads. Ok!
An earlier version of this article incorrectly described the origins of Beach House. They are from Baltimore. The Observer apologizes for the error.