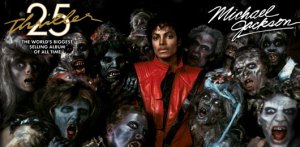 Let the Michael Jackson comeback begin. Today, with the release of the 25th anniversary edition of Thriller, Jackson and company launch the first salvo in what has so far been an abortive effort to get the pop star's career back on track. Good luck! According to The Las Vegas Review-Journal's Norm Clarke (love the eye patch, by the way), Jackson had been holed up at the Palms for the last couple of months of 2007 with his handlers trying to finagle a six-figure deal for him to host a New Year's party. Alas, he's "too radioactive." The new edition of the "world's biggest selling album of all time" may begin to change all of that. It has a couple of new tracks with will.i.am, Fergie, Akon and Kanye West contributing new versions of "The Girl Is Mine," "P.Y.T.," "Billie Jean," and "Wanna Be Startin' Somethin'," using the old recordings. Meanwhile, Jackson can rely on that old Las Vegas axiom and keep himself out of trouble.
The "King of Pop" lords over a veritable pop buffet today with new releases by Kylie Minogue, the most popular pop star to not make it in the U.S., and a rhinoplastied Ashlee Simpson. Minogue's X has been floating around the UK since November, and, so far, it's been well-received. The BBC promises an "album packed with vitality" and "oodles of fun." Oooh, fun. Who doesn't like fun? Her single, "Like a Drug," (below) sounds like millenial Britney. (Isn't she about to turn 40? Didn't she survive cancer for chrissakes?) Take a page from Madonna and move on.
Ashlee Simpson's EP featuring "Outta My Mind," the requisite "celebrity life is just crazy" track of her new album, arrives in stores today. Don't miss the CGI-heavy video (below). It's a whole lot of fun, too, with reenactments from Gulliver's Travels to Ashlee in therapy to Ashlee sitting on a gigantic Rubik's Cube to Ashlee doing the robot (she can't). Either way, she's clearly whipping it, and whipping it good. Thanks, Devo!
Imagine what day this could have been, if Estelle, the burgeoning British hip-hop princess, had released her forthcoming album, Shine, as her label as initially planned. Unfortunately, the release date has been pushed back to May. But not one to disappoint fans, she has leaked single, "American Boy," featuring—who else?—Kanye West. This year's "Umbrella"? It's catchy enough, but perhaps too clubby.
Even the indie bands are feeling a bit friskier today. The latest from British Sea Power—yes, they're from England—is entitled "Do You Like Rock Music?" If it sounds anything like the opening track, "All in It," then the answer is a resounding "Yes." They're borrowing mightily from The Arcade Fire's bag of tricks, introducing choral singers and harmoniums to the mix. But they've got plenty else up their sleeves.