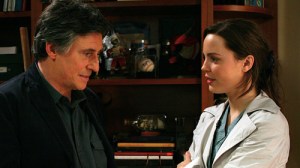 HBO's In Treatment has become a guilty pleasure (or torture) for therapists addicted to the serial drama. "It's like liver and onions," psychoanalyst Phillip A. Ringstrom told the Los Angeles Times. "People either love it or hate it." Some love it and hate it. Some started out hating it and now love it — and vice versa. Showrunner Rodrigo Garcia and others will speak at a panel on March 9: "Responding to Erotic Transference" at New York's Mt. Sinai Hospital. Another New York group held a "psychoanalytic salon" last week to discuss issues raised by the television show. Gabriel Byrne, the hot and bothered therapist who stars in the show, talked to a few therapists for research. In his interview with the Observer, he promised that sexual transference is real. After the jump, Dr. Glen Gabbard, a professor of psychiatry at Baylor College of Medicine and author of "Psychiatry and the Cinema," put In Treatment on the couch for the LA Times.
"In Treatment" has averaged only 320,000 viewers, not a large number even by cable standards. Yet in a time when pharmacology has gained ground in treating problems, what happens behind the closed doors of therapy still has the power to fascinate.
"Not since 'The Sopranos' have I seen so many therapists talking to each other about a show," Gabbard said. "If I walk down the hall, I'm stopped by four or five therapists asking, 'What did you think of last night's session?' 'What is going on with Dianne Wiest [who plays Weston's therapist]?' 'Is this therapy? Is this consultation? Is this supervision?' 'Is it chitchat between two people who hate each other and try to make up?' "
At first, therapist Gardenswartz found the show both depressingly realistic and annoyingly unrealistic. By the end of the third week, however, she had noticed "parallel process" in Weston's mimicking Laura's complaints in his sessions with Gina. "Now, we have something," Gardenswartz said.
Some therapists said they plan to use clips of the show in postdoctoral courses to illustrate professional issues that arise in real-life sessions: Should therapists make coffee? Or start a couple's session when only one person has arrived?
Because real therapeutic sessions are private, media portrayals inordinately impress the public, patients and therapists themselves, Gabbard said. "We tend to internalize the media portrayals and carry them within as internal templates," he said. The profession has complained about simplistic, clownish or evil therapist characters for years.