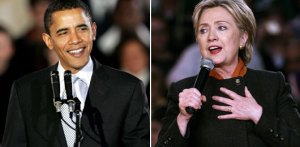 Four states will hold Democratic nominating contests this weekend. Overall, Barack Obama has the clear advantage in most of them, but Hillary Clinton's campaign would dearly like to avoid a sweep—and has been working overtime to pull out a face-saving win in one state in particular.
Here's what it looks like:
Saturday
Louisiana primary:
Even after Katrina, which may have reduced the overall influence of black voters in this state, Barack Obama is in a strong position here.
In the 2004 primary, which was held a week after John Edwards bowed out and John Kerry became the presumptive nominee, blacks and whites turned out in even numbers (although statewide turnout was just 10 percent, due to the paltry stakes). If that pattern holds on Saturday, Obama—who now regularly wins more than 80 percent of the black vote in every primary—will win in a rout. And even if black turnout is substantially reduced, he should still have the advantage, since he also regularly claims at least 40 percent of the white vote.
The last two meaningful Louisiana primaries came in 1992, when it was part of Bill Clinton's landslide sweep of the South, and 1988, when it was one of five Southern states to side with Jesse Jackson on Super Tuesday (by a 35-28 percent margin over Al Gore).
Nebraska caucuses:
Considering the overpowering victories Obama posted on Tuesday in North Dakota and Kansas, it's hard to imagine a substantially different result in Nebraska, where Obama held a rally on Thursday. Like Kansas and North Dakota, Nebraska is also a caucus state, and with the exception of Nevada, he is undefeated in caucuses.
Nebraska's most prominent elected Democrat, Senator Ben Nelson, endorsed Obama a while back. Bob Kerrey, the popular former governor and two-term senator who now lives in New York but who nearly returned to the state to run for the Senate this year, is with Hillary Clinton.
It's been a long time since Nebraska has mattered at all in the nominating process. Traditionally, the state held a May primary, making it relevant from 1976 to 1984, when three straight Democratic primary fights stretched all the way to June. The state helped launch Frank Church's last-minute (and fleetingly successful) challenge to Jimmy Carter's inevitability in '76, sided with Carter over Ted Kennedy in '80, and favored Gary Hart over Walter Mondale in '84.
Washington caucuses:
Washington, which tends to favor candidates from the reform wing of the Democratic Party, should be fertile ground for Obama, who also picked up the endorsement of the state's Democratic governor, Christine Gregoire, on Friday. Like Nebraska, the fact that this is a caucus state also plays to Obama's advantage.
In 1992, Paul Tsongas won the caucuses here, a victory that he hoped would help demonstrate the national appeal of his candidacy. Four years before that, Michael Dukakis tried to same trick, making Washington part of his "four corners" Super Tuesday strategy, in which he used victories in all four regions of the country to demonstrate that he was the lone national candidate. Dukakis' tactic worked much better than Tsongas'. The state was also targeted by Bill Bradley in 2000, but after his losses in Iowa and New Hampshire, it was too late.
There is one confusing and notable quirk about Washington: The state also holds a non-binding preference primary, for which ballots were mailed out weeks ago (Washington has some of the most lax mail-in voting procedures in the country). It is the caucuses that will award the actual convention delegates, but how many voters will skip them, believing they've already participated with their mail-in ballots?
Sunday
Maine: Here is where the Clintons believe they can make their stand. All three of them—Hillary, Bill, and Chelsea—have made trips to the state in the last few days or are scheduled to do so before Sunday's caucuses. And the state's Democratic governor, John Baldacci, is on board. In the wake of Super Tuesday, the Clinton campaign has put out word to the media that they don't think they will win a single contest before March 4, when Texas and Ohio vote. Part of the reason for that spin: So that a win in Maine will look that much more significant.
But Obama can not be counted out here. He should run well around Portland (the largest city in the state, with about 65,000 residents) and in the more affluent and educated coastal communities in the southern part of the state. He should also make a score in the Orono area (near inland Bangor), where the state university is. Hillary should run much stronger in the lower-income northern and inland areas of the state, including the cities of Bangor, Lewiston and Auburn.
The Clintons actually made a play in Maine the last time the state mattered, back in 1992, hoping to demonstrate post-New Hampshire momentum (the caucuses were held the Sunday after New Hampshire) with a win in rival Paul Tsongas' backyard. The plan backfired and Bill Clinton finished in third place. But Tsongas didn't benefit either because the surprise winner was Jerry Brown, who had finished in a distant fifth in New Hampshire.