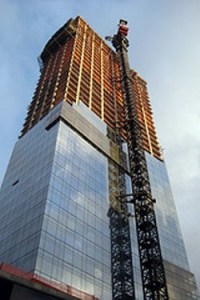 It's barely two months into 2008, and the Trump SoHo condo-hotel on Spring and Varick streets has already weathered a fair share of obstacles and still managed to sell over half the units. First, one of Donald Trump's development partners was implicated in some shady financial dealings. Then construction worker Yuriy Vanchytskyy died in a tragic accident at the building site only a month after opponents of the 44-story tower had railed against the pace of construction.
Last week, when The Observer's Max Abelson broke the news that 26-year-old Swedish soccer player Zlatan Ibrahimovic had become the first named buyer at the tower, paying $2.5 million for a one-bedroom unit, things seemed to be back on track. But now the Trump Organization (and its partners, including the Sapir Organization) is confronting another potential bump in the road, though this one has been long in the making.
The first public hearing protesting the Department of Buildings' decision to award permits for Trump SoHo will take place next week on Feb. 27. at the New York City Board of Standards and Appeals. By now, opponents' complaints will sound familiar, chief being that the condo-hotel conflicts with zoning regulations that prohibit residential developments in the neighborhood.
Opponents claim the outcome of the legal challenge could determine the future composition of SoHo and similar areas of the city, including the far West Village and Hell's Kitchen. Now that 30 floors have already been built, it seems doubtful that the hearing will have any impact.