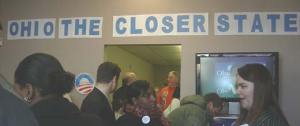 Some noteworthy news stories from a weekend more or less dominated by the Democratic primary race:
A review of unofficial election results from the New York primary show 80 districts where Barack Obama received zero votes. Not suprisingly, the official tallies are significantly different.
Nicholas Kristof writes: "John McCain truly has principles that he bends or breaks out of desperation and with distaste. That's preferable to politicians who are congenital invertebrates."
Michael Crowley doesn't think the latest characterizations of Bill Clinton as a loose cannon are entirely fair.
Representative Robert Wexler of Florida comes to Obama's defense about an email campaign intended to damage the Senator's support in the Jewish community.
Florida's three black Congressman publicly announce that they will not reverse support for Clinton.
Bill Keller of the New York Times thinks there are "unmistakable" similarities between Obama and Nelson Mandela.
Peter Baker finds that McCain never publicly called for Donald Rumsfeld's resignation, as the Senator is now saying he did.
The weather in Wisconsin is hindering the campaigning.
The Obama and Clinton campaigns are scuffling over a healthcare mailer the Clinton campaign sent out in Wisconsin.
McCain weighs in on the economy during an appearance onThis Week.
The Arizona said of Clinton, "She would be a good president in the respect that I think she has integrity, I think she has all of the qualities that are necessary, but she has a very different philosophical view, the liberal Democratic view, than I have, which is conservative Republican."
Clinton scales back the time she will spend in Wisconsin, and now plans to leave tomorrow morning.
Howard Dean extensively ponders the superdelegate issue in front of a reporter, but does not offer a decisive position.
With a portrait of Ohio voters, Eli Saslow gives some idea of why Obama has not gained as much ground there as he has elsewhere.
The Houston Chronicle endorses Obama.
So does the Milwaukee Journal Sentinel.
Stephen Schlesinger writes an op-ed supporting Clinton in the Madison (Wisconsin) Capitol Times.
Obama takes a statistically significant national lead in the Gallup tracking poll for the first time.
"I think I've been ripped off, dude!" writes founder and songwriter of the band Boston, Tom Scholz, after learning that Mike Huckabee has been using the song "More Than a Feeling" on the campaign trail.
Obama goes on the air in Rhode Island and Vermont with old ads.
The latest news in the mystery surrounding superdelegate John Lewis' support is that this weekend he refused to "make any political statement."
The New York Times editorial board thinks Obama, as he said he would last fall, should accept public funding for the general election if he goes up against McCain.
Howard Wolfson weighs in on what he calls Obama's pledge to use public funding and says, "That's not change you can believe in."The young, blue-collar, governor of Minnesota, Tim Pawlenty, is gaining attention as potential McCain running mate.
An Iowa superdelegate and member of S.E.I.U. (which just endorsed Obama) switches support from Clinton to Obama.
James Clyburn, Charlie Rangel and other black superdelegates in Congress speak to the Washington Post about pressure to abandon Clinton and support Obama.
In The Dallas Morning News, Wayne Slater writes about how to win the Texas primary.
Jake Tapper looks at recent comments about Clinton from Obama and wonders if the language is sexist.
Obama responds to Clinton's response to to his response to her ad criticizing him for refusing to debate in Wisconsin. (In case you missed it, here's the Clinton ad that was third in the series.)
Clinton is visibly moved by one woman's story of losing her home.
Dan Janison suggests a few titles for sequels to this cycle's campaign autobiographies.
Councilman John Liu publishes an editorial in the Daily News that proposes placing the proceeds of congestion pricing in a "lockbox" for public transportation.
Eliot Spitzer's tax on illegal drugs makes it into the Washington Post, which continues to call it the "crack
tax."
Diane Cardwell writes that Michael Bloomberg is somewhat aimless since his presidential prospects have fizzled.
The mayor says that he will both veto and refuse to enforce the City Council's "illegal" e-waste recycling bill.
But he, along with Spitzer, supports making it possible for New York State teachers to retire earlier.
Kosovo declares independence from Serbia.