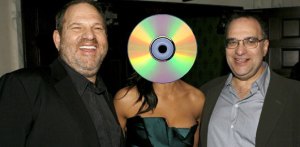 It looks like Criterion has some fresh competition. Former Miramax chiefs Bob and Harvey Weinstein, now of the Weinstein Company, launched their own DVD label, the Miriam Collection (named after their mother, how sweet!) in January. Reuters reports that the duo is shooting for 12 to 15 branded releases per year, ranging from major productions, like Miriam's inaugural DVD, Anthony Mann's El Cid, to niche titles like Stephen Frears' (The Queen) made-for-British-TV movie, The Deal. Miriam's second release, slated for April 29, will be The Fall of the Roman Empire, also by Mr. Mann, "a lavish 1961 production starring Alec Guinness, Sophia Loren and Omar Sharif … that earned its place in the record books for the largest outdoor set in Hollywood history: more than 55 acres, with a reconstructed Roman Forum."
Weinstein clearly relishes being able to play kingmaker and give deserving films the true DVD VIP treatment a la the fabled Criterion Collection.
"The Fall of the Roman Empire, for example, is fully loaded," Weinstein said. "It looks and sounds astonishing, and the bonus materials fully explore the sheer magnitude and grandeur of making a film of this scale in a time long before the advent of CGI."
Indeed, the Weinsteins' DVD version of Roman Empire will come in an elegantly packaged three-disc edition. Extras include a commentary by Bill Bronston, son of producer Samuel Bronston, and film expert Mel Martin; a reproduction of the original 1964 souvenir program; a behind-the-scenes look at the fall of the real Roman Empire; a detailed "making of" documentary; five Encyclopedia Britannica featurettes on the Roman Empire; and a set of six color production stills.