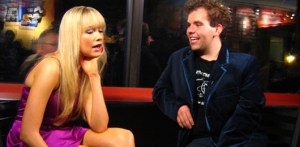 On Monday, Feb. 11, at the party for the book Richard Zoglin: Comedy at the Edge held at 1 Time Warner, Jake Sasseville, who at age 22 has managed to elbow his way into local late night with a show, The Edge With Jake Sasseville, which debuts on My9 in New York this week, was overheard telling an early war story.
This past December, Lisa Goldberg, the director of public relations firm LSG, arranged interviews for two of her clients, Katrina Bowden, who plays Cerie on 30 Rock, and Alison Becker, a VJ on VH1, with the young, hyperactive talking head.
Mr. Sasseville likes to film his shows at wacky places. Mr. Bowden's shoot went down at Dunkin' Donuts on Second Avenue, and Ms. Becker's at the Cutting Room on West 24th Street. Both women enjoyed the experience, said their rep.
Ms. Goldberg, however, was apparently not pleased when Mr. Sasseville referred to her during the inteview with Ms. Becker, "calling her 'Goldenstein, Goldenberg,' and making the comment 'Oh, you know the Jews with their publicists,'" according to a source. "It was kind of enough already after 10 minutes."
Mr. Sasseville told the Transom that the incident angered Ms. Goldberg to the point that she yanked a third interview, with the actress Martha Plimpton. (Ms. Goldberg said there was merely a scheduling conflict.) "I wrote her an apology," he said. "Of course, it was never meant to offend. As a comedian, I'm not trying to offend anyone—Christians, Jews, Muslims."