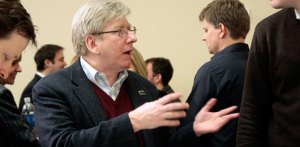 Yesterday, W.G.A. leaders voted unanimously to approve a deal that would bring to an end the Hollywood writers' three-month-old conflict over new media residuals. What's left now is tomorrow's vote by W.G.A. members on whether to end the strike, pending a contract ratification vote by the joint-membership of the east and west guilds, which will take place via mail ballot over the next few weeks. In New York, ballots on lifting the strike will be cast between 4 and 7 p.m. tomorrow at the Crown Plaza Hotel on Broadway and 49th Street. The results will be announced later that night. After the jump, W.G.A. East President Michael Winship's letter to membership:
Dear Fellow Members of the Writers Guild of America, East:
I am very pleased to inform you that earlier today the Negotiating Committee of the Guilds East and West unanimously and unconditionally recommended the terms of our proposed 2008 MBA to the Guild East Council and the Guild West Board.
The Council and Board then voted unanimously to recommend the contract, and to submit it to the joint membership of the two guilds for ratification. The ratification vote will take place over the next couple of weeks by mail ballot and at a special membership meeting. You will receive ballot materials and information via mail sometime later this week.
There is, however, another issue to address first: whether to lift the restraining order, and thus end the strike while we await the results of the contract ratification vote. The council and board heard your voices at Saturday's membership meetings and are asking you to decide.
A vote on whether or not to lift the strike will take place this Tuesday, February 12, 2008. A yes vote means you are voting to end the strike immediately; a no vote means you are voting to continue the strike during the ratification process.
Ballots can be cast from 4 to 7 pm on Tuesday in the Broadway Ballroom on the 4th floor of the Crowne Plaza Hotel, 1605 Broadway at 49th Street. For members with questions, the East members of the negotiating committee will conduct an informational meeting and Q&A from 4 to 5 pm. However, members can show up anytime between 4 and 7, cast their votes and leave.
If you are not able to cast a ballot in person, proxy ballots can be downloaded at our website, www.wgaeast.org, and faxed in. Instructions on how to do this also are posted on our website.
Remember: until the votes are counted, we are still on strike, although picket lines are suspended. We will announce the vote count later Tuesday night.
Your solidarity and support have been an inspiration. On behalf of your leadership, I send you our profound thanks and gratitude. We will build on this energy, unity and creativity to make our union stronger than ever.
Onward,
Michael Winship
President
Writers Guild of America, East