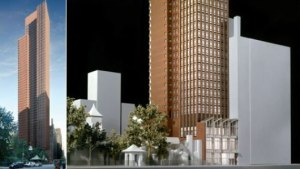 Last night I went to a bachelor-pad themed cocktail party in the penthouse of the new Sky House Condominium building on 29th Street between Madison and Fifth with one question in mind:
Now that those heady days of economic prosperity are probably behind (most of) us and fewer investment bankers have money to burn, what exactly constitutes a bachelor pad?
There's no formula, said designer Bryan Bennett, but a vintage 1978 Playboy Pinball Machine and a Philippe Starck sofa bed are a couple of the standout pieces he chose to decorate the model apartment at Sky House. What else in the plush pad screams testosterone? A $100,000 entertainment system; a 50-inch, wall-mounted Plasma TV; a set of brandy tumblers perched on a leather ottoman … you get the picture.
Mr. Bennett said he tried to mix contemporary pieces with industrial and Danish Modern to achieve the "push and pull between old and new."
What really makes a bachelor bad is the added bells and whistles, explained Tom Beaumont, the CEO of House Systems, the company that installed the integrated media system in the model apartment.
"Nowadays the entertainment system is a major wow factor because it lures the opposite sex, or same sex if you're so inclined," Mr. Beaumont said. "We're catering to a Wall Street banker, a broker with disposable income, who doesn't want to go to a chain electronic store, but wants a customized sound system installed for him."
The idea is for a guy to come home, throw his keys and briefcase on the table, and immediately plug in his iPod at one of three wall-mounted iDocs in the small foyer, Mr. Beaumont demonstrated in a tour. A key pad below the station allows the bachelor to control the 20-speaker stereo system throughout the house. There are ceiling speakers in the master bedroom and en-suite bathroom so you can listen to music "while you're doing your thing," he said.
None of the current Sky House dwellers have contracted House Systems to install a sound system yet, but Mr. Beaumont said they are in negotiations with a few clients.
Aside from the flashy technology, the first year's common charges (less than $1 dollar per square foot) include the costs of in-house concierge service Abigail Michaels, which does everything from walk the dog to make a dinner reservation.
Around 20 of the building's 138 units have been sold since sales began around a year ago (occupancy only commenced in January) but less than half of the buyers are Wall Street types, the sales director of developer the Clarett Group, David Perry, estimated. Units start at $1 million for a one-bedroom; $1.6 to $3 million for a two-bedroom; $2.18 to $2.6 million for a three-bedroom; and $7.2 million for the "deluxe" apartment with a 983-square-foot-terrace.
Despite the Clarett Group's effort to target high-rolling, unattached Wall Streeters with an advertising campaign in Trader magazine and last night's surprisingly well-attended cocktail party (given the stormy weather), the building is not geared exclusively to men.
"So far the buyers are mixed," Mr. Perry said. "We've got some strollers around and there's a family room, but we're definitely also attracting investment bankers who want to be on top of the world."