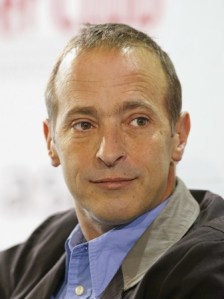 Publisher's Weekly reported earlier this month that David Sedaris had changed the title of his forthcoming book of essays. Originally it was listed as All the Beauty You'll Ever Need. Then it popped up as Indefinite Leave to Remain. Then, just a few months before its June 3rd publication date, it became When You Are Engulfed in Flames. What happened? The publisher of Little, Brown, the house that is putting out the book, told PW that there was nothing to it: "Titles change!" he said. Well, sure! But why?
We caught up with Mr. Sedaris yesterday and asked him; he spoke to us by phone from Paris.
Turns out "All the Beauty" was never a serious title—just something Mr. Sedaris submitted because Little, Brown had to send their catalog to the printer. And "Indefinite Leave to Remain"? That came from the top of Mr. Sedaris's new Green Card, which he'd been awaiting eagerly. His partner, Hugh Hamrick, was the one who suggested he use the phrase as the title of the book. Mr. Sedaris liked it, but learned quickly that other people didn't. "Whenever I said the name to people they just blinked. They had no reaction to it whatsoever."
The new title, the one about the flames, came from an instructional brochure Mr. Sedaris found at his hotel when he visited Hiroshima last year. "It was called 'Best Knowledge of Disaster Damage Prevention and Favors to Ask of You.' And it was broken up into different chapters. 'When You Check In a Hotel,' 'When You Find a Fire,' and 'When You Are Engulfed in Flames.' It just slayed me."
Mr. Hamrick, meanwhile, who lives with Mr. Sedaris in Paris and London, is still lobbying for "Indefinite Leave to Remain." As it happens, that'll be the second title Mr. Hamrick has come up with that Mr. Sedaris has eventually rejected: the first time was with 2000's Me Talk Pretty One Day, which was originally called "Primates on the Seine," a phrase that came to Mr. Hamrick in a dream. Mr. Sedaris loved it, but eventually bailed on the idea.
One wonders if Mr. Hamrick is a little bit hurt by this pattern! Perhaps Mr. Sedaris would consider going back to "Indefinite Leave," if only out of loyalty?
"It's a little too late now," he said. "I don't think I can change it again. Maybe I could, but not change it back. If I found something better I could probably do it."