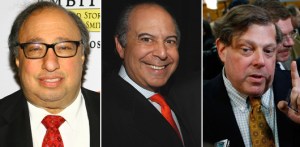 "What's gone wrong is very simple," said Hassan Nemazee, a national finance chair for Hillary Clinton's presidential campaign.
"If we had won Iowa and New Hampshire, as we had anticipated, projected, et cetera, you would not have been in a situation in which you are losing all of these small states—because we didn't put any resources in those small states," he said. "Obama, on the other hand, put resources in these small states."
Compounding the damage of the bad defeats in Iowa, and then South Carolina, Mr. Nemazee explained, was the lack of the necessary foresight to invest the campaign's resources in the states that Mrs. Clinton's rival, Barack Obama, is now gobbling up as fuel for his ever more threatening momentum.
"You needed to have a Plan B, and Plan B was just doing what we are doing right now rather than having resources in the small states," he said. "We basically ceded every one of these small red states that he has racked up victories in. And the reason that he has racked up victories at this level isn't because he was so much more well received, or because his message was any better; it was because we didn't put any resources in there. We weren't campaigning there. We didn't have anybody in Utah, in Idaho, in the Dakotas. In Alaska."
On Feb. 12, the picture got even worse, as the voters of Maryland, the District of Columbia and Virginia all appeared set to hand lopsided wins to Mr. Obama. With a cold and bleak February calendar staring straight at them—other states set to vote this month are Wisconsin and Mr. Obama's former home, Hawaii—some of Mrs. Clinton's supporters are wondering how long she can keep losing without her support collapsing in the remaining contests.
Mrs. Clinton has made a show of addressing those concerns by replacing her campaign manager, Patti Solis Doyle, with another loyalist, Maggie Williams. (Several donors interviewed for this story said, in retrospect, that they thought Ms. Doyle was in over her head.) But at this point, no change in personnel alters the campaign's prescription for recovering its position: win Ohio and Texas on March 4, and Pennsylvania on April 22.
"If she doesn't do well in these states," said Mr. Nemazee, "it's a completely different matter, and the momentum swings completely over to the other side."
The Clinton campaign's other scenario—Mrs. Clinton loses a majority of elected delegates but is protected by a buffer of party-appointed superdelegates to make up the difference—looks increasingly unlikely.
"The superdelegates are going to by and large mirror the popular vote," said Senator Chuck Schumer, himself a superdelegate.
Mr. Schumer said he was "committed" to Mrs. Clinton no matter what. Asked if there wouldn't be a revolt in the party if superdelegates undid the results of the state primaries and caucuses, he suggested that there was some wiggle room. "If the election is that close that 10 superdelegates going one way rather than the other way [decides it]? No. People will say it was a very close election."
But, he said, "I don't see a massive move of superdelegates different than how their states voted."
The states may well end up voting for Mrs. Clinton in the end. But the realization that seems to have set in, somewhat jarringly, among her supporters is that there's no safety net if they don't.
"Everybody is taken aback—nobody expected it," said John Catsimatidis, a supermarket magnate and prominent donor to Mrs. Clinton. (He was bestowed with the title of "Hillraiser" by the Clinton campaign, signifying that he had raised more than $100,000.) "Nobody expected Obama to be so strong. And at the end of the day, I think the Clintons will win out. But I have been saying that all along and it is getting harder to keep saying that."
"Here's the thing," said Yashar Hedayat, a prominent fund-raiser for Mrs. Clinton in Los Angeles. "I have a lot of donors who are nervous, who are looking at the calendar like you are and saying, 'How is this possible?' But I feel very good about Ohio and Texas and Pennsylvania."
The bad news is that an Ohio-Texas-Pennsylvania strategy sets a very real deadline, past which it becomes just about impossible to argue that there's still time to turn things around. It's March 4 (and April 22) or bust.