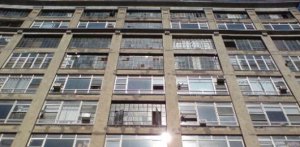 In last week's Observer, we covered the backstory and the slow slog back for the residents of 475 Kent Avenue, the quasi-converted commercial Williamsburg building where tenants were booted into the cold by the FDNY in the wee small hours of Jan. 20. Firefighters said the building was unsafe because of a matzo wheat in the basement and broken standpipes.
The Times provided an update on the situation over the weekend, and it looks like the tenants, mostly artists, have tried to make a go of moving back in:
Granted access during the day, the residents have tackled some violations: clearing debris, fixing fire alarms, replacing light bulbs in exit signs. They say the landlords have helped as well, removing the matzo wheat and having the standpipes fixed.