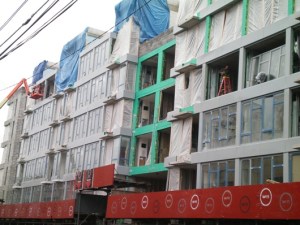 With a glut of condos on the market in Williamsburg and thousands more set to come online over the next few years, you would think the construction crews might have been given a day off for Monday's holiday, but alas work continued through the rain and into Monday evening on four of the latest residential projects overlooking McCarren Park.
The nine-story Ikon at 50 Bayard Street and Karl Fisher's condo tower at 20 Bayard (two of the three Fischer-designed condos on the block) looked almost ready for occupancy on Monday. The small plot that was home to the "beauty addiction" building–the last original structure on Bayard, the street that has come to symbolize all the pitfalls of Williamsburg's gentrification–has been cleared and workers were preparing to lay the foundation for yet another condo between 20 Bayard Street and the Lotus.
At the site of the former Roebling Oil building across the street, construction crews worked to complete the Warehouse 11 condo building.