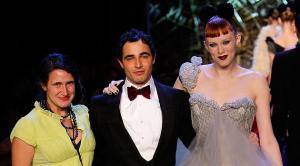 Few of Fashion Week's most anticipated shows are held at Bryant Park's tents (Marc Jacobs, Proenza Schouler, Rodarte, and Thom Browne, for example, are all off-site), and last night's Zac Posen show made clear the reasons.
Security guards demanded invitations or credentials at the entrance, despite the fact that the Daily Transom had breezed through all week with neither. "There are a few shows that are huge, and everyone tries to sneak in," said one sentry apologetically. "And everyone tries to sneak in.")
Inside, the leisurely pace of the daytime shows—posing for photos, grabbing an energy drink—had been replaced by a desperate urgency more befitting the food-rationed Soviet Union. The crowd descended hungrily upon a helpless table of young KCD publicists, and those who made it past were herded in a large mob into the so-called Tent, the largest of the Park's three venues. At least waiting out the cold in front of the Lexington Avenue Armory for Mr. Jacobs's show is an expected indignity.
There was a pronounced absence of flashbulbs, and serious, older-looking editors and industry types, rather than young television starlets. Those bearing microphones had only rapper and clothing designer P. Diddy (who will show his Sean John line today), omnipresent stylist Rachel Zoe and actress Joy Bryant, who was seated between Vogue's Sally Singer and Shelby Bryan, Anna Wintour's beau, to choose from. (Oh! And beleaguered socialite Olivia Palermo, who, relegated to the third row, sat unmolested by photographers.)
Mr. Posen's collection, set against a background tableau of falling chairs, had an Alice-In-Wonderland vibe, beginning with costumey black and white tuxedo concoctions in sparkly fabrics and ending with long evening dresses. Each model wore two black pom-poms in her hair. Two tripped mid-walk, and a third, Karen Elson, wife of rocker Jack White, wiped out entirely as she stepped out to close the show in a diaphanous white gown. Diddy and another model came to her rescue, she laughed her way down the runway, and received an extra round of cheers.
Mr. Posen clutched both Ms. Elson and his sister, Alexandra, the brand's creative director, as he took his turn on the runway—in a tuxedo, of course—at the end.
Afterwards, a stampede for the exists. "This show was a great way to end Fashion Week," Ms. Bryant said. Still: "It's a bit madness."