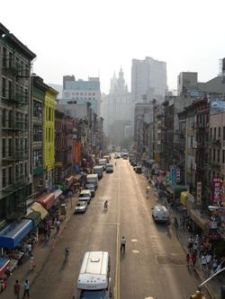 On Broadway and Canal Street things appeared normal the day after the NYPD raided what it dubbed "the counterfeit triangle" of Chinatown. Tourists milled around, trying on the knock-off sunglasses and stroking the rows of fake bags hanging on the walls.
(As an aside, the word "counterfeit" implies the copies actually resemble the original and the goods on display in Chinatown would not fool even the most casual readers of Vogue.)
"Gucci, Louis Vuitton, Prada. What do you want? I got it all," one man offered not so surreptitiously.
When I approached another vendor to ask about yesterday's events, he asked me in a thick Chinese accent if I wanted to buy a designer bag. A few stalls had sheets draped across portions of their merchandise.
But a block up the street the rest of Chinatown was on edge. Nearly all the shops on Canal between Baxter and Centre streets were shuttered and an assembly line of plain-clothed, Asian-American NYPD officers were loading garbage bags of confiscated goods into a truck. A few minutes later, they had moved on to the next store at 230 Canal and had begun piling up brown leather bags plastered with the famous LV logo. Crowds of onlookers chatted nervously in (what sounded like) Chinese while they watched from across the street.
When I approached to talk to them, a man threw his arms up and screamed what was presumably a curse in Chinese.
A row of stores between Lafayette and Centre were also shuttered Wednesday morning, but not at the orders of the NYPD. One man tried hastily tucked a red nylon Prada satchel inside the store and pulled down the metal grate.
The owner of Lay's Herbal Center—one of the only people from nearby stores who agreed to talk to me, let alone admit that he knew anything about what happened yesterday—said he expects the raids to continue toward Broadway.
"Next they'll go to Lafayette and Canal. They can't clear all of Chinatown in one day," he said. He waved his hand dismissively when asked his name. "It doesn't affect me 'cause everything I sell is legal."
A uniformed cop manning a barricade in front of the raided stores said "eventually they will sweep the whole place," but perhaps not immediately because the NYPD needs to get individual search warrants first.
He said the mountains of merchandise inside the trucks would eventually be destroyed.
The question is why the NYPD is cracking down on Chinatown now after allowing its "counterfeit" economy to exist for decades.
"It had just gotten too out of hand," reasoned the young officer.
Allam, a Bangladeshi vendor on Canal who shares his stall with a Chinese man who did not show up to work today, worries the raids might be the beginning of the end for what had seemed like Manhattan's most impenetrable ethnic enclave.
"I don't know what the mayor is thinking but yesterday they shut an entire block so I'm sure the rest of the street is next," Allam said standing in front of the rows of NYPD and FBI hats displayed in his stall. "Chinatown has been here for a century and soon it will be gone. It really sucks."