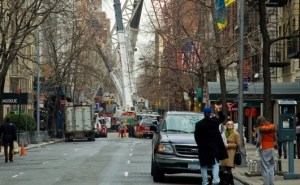 The number of reported crane-related accidents at New York City construction sites rose from 19 in 2006 to 29 in 2007, and crane related injuries increased from three to nine, according to a Daily News investigation published today.
Based on the amount of incidents in the first quarter of this year and the number of crane applications submitted to the Department of Buildings, the trend may continue through 2008.
Before the disastrous crane collapse in Turtle Bay on March 15, there had already been three crane-related incidents—one of which injured a worker—at building sites in the five boroughs. The number of developments that applied for crane permits increased from 707 in 2003 to 931 in 2006, the last year where complete statistics are available.
"More than ever, cranes are being set up by unlicensed riggers, operated unsafely and used to hoist loads far heavier than what they were built to manage," the Daily News reported.
In many of the cases where the DOB has cited crane operators for construction violations, work has continued apace during the (often long) interims between the accidents and scheduled hearings of the Environmental Control Board, the body responsible for determining penalties. The fines that are meted out are "typically low and punishment haphazard," the report says.
In February, a crane collapsed at a Tribeca building site, for instance, and the operator was issued a violation for "grossly overloading" the crane. Construction resumed almost immediately, though the hearing will not take place until April 17.