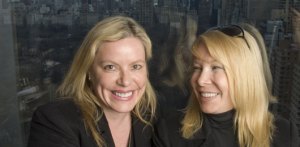 Location: You represented a London-based oilman when he bought two penthouses at the Plaza, a triplex and duplex that will close next month. The Times reported that the price is $56 million, but I've heard it's $53.5 million.
Ms. Sample: That's correct. There probably will be some additional purchases that go along with that … for staff.
Ms. Powers: They had an hour and a half to spend with us, they were like, 'pick out the best.'… One is facing Fifth Avenue, and one is facing Park Avenue.
That was a record-breaking contract price, but only for about a few seconds—before developer Harry Macklowe paid around $60 million for a Plaza sprawl. Was your buyer upset?
Ms. Sample: You know what? He doesn't really believe that Macklowe paid $60, to be honest with you.
Have you been approached by new owners at the Plaza to put their places up for sale for nine digits? The rumor is that some people want to flip for as much as $100 million.
Ms. Sample: One hundred to $110 … and we were offered $150 million for the two apartments at the Plaza that we haven't closed on yet! And do you know what our guy said? He said, 'I wouldn't sell it for $300 million.'
That's crazy! He hasn't even seen the apartment yet because the renovations aren't ready. How does he know he won't want to sell?
Ms. Sample: Look, if someone is worth $5 billion, they don't care.
But isn't it crazy for people to be so wealthy?
Ms. Powers: Good for them.
Ms. Sample: Good for them. That's the democratic way. I'm not a communist. If you work hard, and it's legitimate, why shouldn't you?
I reported that you just sold a $15.85 million apartment at the Time Warner Center, and that the seller, whom you represented, was known as 'the psychic hot-line king,' the man behind the fraudulent Miss Cleo.
Ms. Powers: I had no idea.
Ms. Sample: No, we didn't.
Do you look into the backgrounds of the people you work for?
Ms. Powers: Not always. I mean we look at the company, the biography, but not into every single detail.
Ms. Sample: Well, what psychic hot line would ever be legitimate, quite honestly? I'm sorry, that would be my answer to that.
Not to nitpick, but in 2004 you listed Tyco CFO Mark Swartz's Ritz-Carlton duplex for $28 million, after Tyco's downfall.
Ms. Sample: We cannot discuss that. … We were hired by the corporation after the indictments. So that's the answer to that question.
Is your attitude here that it's about the real estate, not the people? Or do you worry about where your clients' money comes from?
Ms. Sample: Yes, we do, absolutely. … We've had governments that are not in favorable standing with the United States, shall we say, that we've been contacted by. … When I first started in the business, I was almost kidnapped by a guy that was wanted by Interpol … for arms smuggling.
Ms. Powers: Everything is questionable when you deal with that much money. We've dealt in the past with huge casino owners; now, that alone is questionable.