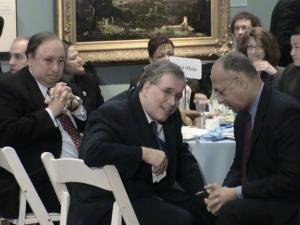 Here's a shot from the breakfast hosted Sunday morning by the Council of Orthodox Jewish Organizations on the West Side, which, as Grace Rauh noted, attracted nearly every 2009 candidate for citywide office.
Sitting at the same table were, from left to right, state comptroller Tom DiNapoli, mayoral hopeful John Catsimatidis, city Councilwoman Melissa Mark Viverito, City Councilwoman Inez Dickens, Manhattan Borough President Scott Stringer, likely mayoral candidate Bill Thompson, Assemblywoman Linda Rosenthal and City Councilman John Liu.
Also in attendance were: city comptroller candidates Melinda Katz, David Yassky, Adolfo Carrion, Simcha Felder, likely mayoral candidate Anthony Weiner, likely public advocate candidate Eric Gioia, Representative Jerry Nadler and City Councilwoman Gale Brewer.
Not in attendance was likely mayoral candidate Christine Quinn. An event organizer showed me, but would not provide a copy of, the email inviting Quinn to attend the event and receive an award from the group. Quinn reportedly had a scheduling conflict and could not attend.
Walking out of the event, I asked Tom DiNapoli what he thought of Albany County District Attorney David Soares' report which said former Governor Eliot Spitzer was heavily involved in the effort to use the state police to disseminate Joe Bruno's travel records.
DiNapoli laughed and said, "I'm happy I'm the comptroller. That's my statement."