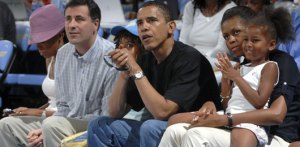 At first glance, it looks like Obama likes his chalk. He picked three No. 1 seeds to make the Final Four (all four No. 1's have never made the Final Four, and three of them have made it only once since seeding began in 1985) and was sparing with his early-round upset selections. It's a little hard to find many obvious political motives in his choices … but not impossible:
Pennsylvania bias: Obviously, this is a critical state for Obama, and he's fairly generous with the Keystone State's four tourney entrants. For instance, one of his few first-round upset picks is 11th-seeded St. Josephs (from Philly) over No. 6 seed Oklahoma (one of Obama's worst primary states). And his one lone non-No. 1-seed pick for the Final Four is Pittsburgh, a fourth-seeded team that Obama picks to overachieve its way to the South region title.
And while he is less kind toward the other two Pennsylvania teams, a political motive could be at work here, too: He has No. 12 seed Temple losing to Michigan State, possibly an effort to make peace with Michigan voters still upset over Obama's opposition to a primary re-vote. (For the record, Temple's Owls did, in fact, lose to MSU yesterday.) And he has Temple's fellow Big-5 school, 12th-seeded Villanova, flaming out in the first round against Clemson—could this be a way of expressing gratitude to South Carolina?
Indiana: The state's May 6 primary could end up being more pivotal than Pennsylvania's, a potential toss-up in a state filled with those working-class white voters we keep hearing about. Interestingly, few well-versed basketball fans outside of the state are picking Indiana, which tanked down the stretch after a recruiting scandal cost coach Kelvin Sampson his job, to defeat Arkansas, which nearly won the SEC tournament last weekend. But Obama sticks with IU in his pool in what could be seen as a political two-for-one: currying favor with Indiana voters while simultaneously saying "screw you" to Bill Clinton's state (and another of Obama's worst primary states). He also sends Notre Dame to the Sweet 16, which is about as far as anyone expects they'll get. (But Notre Dame probably means more to Catholic voters in Pennsylvania than it does to the average Indianan.)
Obama is much less kind to the other Indiana teams in the field, picking Baylor to upset Purdue in the first round and forecasting that No. 7 seed Butler's run will end in a second-round loss to Tennessee. The Purdue pick could be seen as a thank-you to Texas, where Obama won the delegate race, if not the actual primary. Of course, it was also an incorrect pick: The Boilermakers flattened the Bears. Having Butler lose to Tennessee just makes no sense. Tennessee was another Clinton state in the primaries. Could Obama actually be making this choice based on nonpolitical factors? (Note: He's still wrong; the unheralded South Alabama Jaguars will defeat Butler in the first round and then take out Tennessee in round two. You read it here first.)
Other noteworthy picks: Obama picks North Carolina as the national champion. This could be a blatant appeal for votes in the state's May 6 primary. Or, as Ben Smith pointed out, it could just be common sense. It could also be seen as a way for Obama to endear himself to John Edwards—an NC State alum who nonetheless calls the Tar Heels his favorite team.
Smart play.
UPDATE: Apparently, Obama is now amending his picks and saying that he thinks Pitt will lose to Stanford in the Elite Eight. This is plain reckless. California has already voted, and it didn't go Obama's way. So why would he throw western Pennsylvania under the bus to pick the Cardinal? It wouldn't have anything to do with them, would it?