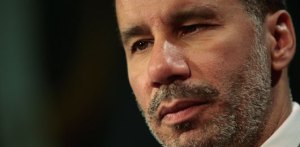 In order to get past the daily public revelations of his quasi-private transgressions, David Paterson needs to start doing the things a governor does: taking stands on issues, setting legislative goals, proposing new initiatives. Furthermore, he needs to put distance between himself and his fallen (and still falling) predecessor, while building goodwill from the public and newspaper editorial boards by embracing some workable form of Eliot Spitzer's theoretically popular reform agenda. And he needs, finally, to clear the air about everything else.
Apparently, he hasn't yet figured out how to do that.
From Mr. Paterson's first, confessional interview with the Daily News about his extramarital sex life—it turned out that he confessed relatively little—to his strained not-quite-denials of having facilitated his relationships with campaign and taxpayer money, the new governor has only invited the press to dig deeper.
There is always, it seems, more to the story than Mr. Paterson initially lets on, whether it's the companion who turned out to be on the state payroll, or the outlay of campaign money for furniture and clothing, or the fact that he has apparently been in the habit of using his state credit card to pay for stays in a hotel near the Capitol despite the fact that he has a publicly underwritten chauffeur to take him to his house nearby.
Certainly, with an April 1 budget deadline coming up, a gubernatorial transition to oversee and, let's not forget, a state to govern, Mr. Paterson has begun to try to talk about other things. But that hasn't gone so well either.
Take, for example, the first press conference he held in his midtown office, on March 24.
Mr. Paterson was there to announce that he was nominating Harry Corbitt to be the new police superintendent—a step, both concrete and symbolic, to move his fledgling administration past the era of Eliot Spitzer and Troopergate.
About 10 minutes into the press conference, Peter Cox of the New York Post asked, politely, whether the new governor would "be releasing the e-mails from the Spitzer administration with regards to Troopergate."
"No one has made that request," Mr. Paterson said, "and if that request comes from any source, we will attempt to cooperate by investigating what the law and the [state] Constitution govern us to do."
What?
The room full of reporters, who had already asked a series of Troopergate-related questions that Mr. Paterson seemed reluctant to answer, began to buzz.
"You're saying nobody has asked for e-mails associated with Troopergate?" asked The Times' Nick Confessore, incredulously. "I mean, as far as we can tell, the administration has been subpoenaed for e-mails for Troopergate by the Senate and other parties, right?"
"Uh, that is correct," Mr. Paterson said, his police superintendent nominee standing a few feet away. "And we will look through what the constitutionality is involving this situation, and we will follow it. We are in no way attempting not to be cooperative in this situation."
He then went on to praise the Republican majority leader, Joe Bruno, and shortly thereafter, his aides ended his press conference.
Afterward, in what has become a familiar routine, a spokeswoman for Mr. Paterson waded into the ranks of the reporters and began explaining what Mr. Paterson had actually meant. There were no new challenges to the subpoenas that had already been filed.
(Following Mr. Paterson's first press conference as governor, on March 18, his aides spent much of the rest of the day clarifying his statements he had made about just how many extramarital affairs with women on the state payroll he was admitting to.)
This has not been a productive routine.
The best thing Mr. Paterson has going, however grim things appear be at the moment, is that Albany, by and large, wants him to survive.
His fellow Democrats have closed ranks around him, at least publicly, and Republicans like Mr. Bruno—Mr. Spitzer's chief antagonist—quickly declared Mr. Paterson's personal issues to be a "private" matter.
For now, neither sympathy nor advice for Mr. Paterson is in short supply. Even, despite everything, from good-government types.
"He has to keep coming back to the substantive victories he can point to since being governor," said Gene Russianoff, the senior attorney for the New York Public Interest Research Group. "If some of the logjam were broken in Albany, that would be much to his credit. And I think the legislators would give him such [credit] where normally they would die before saying it was the governor who got an on-time budget. But I think this time they would be much more willing to credit the new governor."
Mr. Russianoff went on to explain why he felt it was in the interests of so many people with a stake in Albany for Mr. Paterson to succeed.
"All this stuff spills over to people's general view of elected officials," he said. "It's not just Paterson's problems.
"It's even in the interest of groups like mine," he continued, because "getting people to believe that government can't solve their problems [is] not going to do a lot to solve our transit system or our health care system or fairer energy distribution. So I'm pretty much rooting for him to bring some stability back and do things that affect people in a positive way."