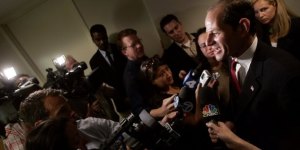 A team of New York Times metro and investigation reporters and editors have been working since yesterday afternoon to break the story of Eliot Spitzer's alleged involvement with a prostitution ring, according to a newsroom source.
The group of editors were led by metro editor Joe Sexton, politics editor Mary Ann Giordano (former Observer managing editor!), metro political editor Carolyn Ryan and investigation editors Matthew Purdy, Kevin Flynn and Ian Urbina.
The team of reporters was led by Danny Hakim, the Albany reporter who was reporting in the city yesterday.
The group of reporters also included David Chen, a reporter out of the paper's Trenton bureau, and William Rashbaum, the paper's court reporter.
According to our source, editors and reporters, led mostly by Mr. Sexton and Ms. Girordano, were shuffling in and out of conference rooms and repeatedly calling field reporters deep into the night. It was especially rare for Mr. Sexton and Ms. Giordano to be in the office on a weekend night, with Mr. Sexton only "rarely" making appearences on Sunday nights, the source said.
The story went on their web site around 2 p.m. today, which since has been going on and off line.
At the building, a huge crowd has gathered near the paper's metro area on the third floor.
This memo, sent by metro editor, Peter Khoury, was just sent out as well: "Obviously, we're going to have much late news, thanks to the governor. So we really need you to file all nonrelated stories as early as possible. It's going to be a long night…."
Just got off the phone with Mary Ann Giordano: "I was the last person in the entire newsroom to find out about the story," she said. "I was at the gym when i found out. I was there yesterday working on national politics." With David Chen, it appears.