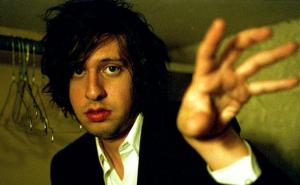 So there's no way Adam Green could have known that, when asked by director Jason Reitman what music her character ought to listen to, Juno star Ellen Page would reply "The Moldy Peaches" faster than you can say "homeskillet."
And there's no way Mr. Green could have known the film would become such a runaway success, or that a tune by his old band, the Moldy Peaches, featured prominently therein would become one of iTunes' hottest downloads, or that the soundtrack would rocket to the top of the Billboard 200, or that he'd end up reuniting with ex-band mate Kimya Dawson after a four-year hiatus to perform their old songs in front of the ladies on The View, or that thousands of teens across the country would record their own cover versions of Juno's unofficial theme "Anyone Else But You," and then load them up on YouTube.
But the timing's got to feel pretty sweet, right? Just as the mania surrounding the movie and its music is starting to wane, Mr. Green has a chance to step in and offer all those fans another deep swig right from the source.
Well, judging from the character of Green's latest album, "Sixes & Sevens," the after-the-fact popularity the Moldy Peaches are enjoying may in fact be kind of a mixed blessing. See, Mr. Green has moved on. He's left behind the beat-up guitar strum and stream-of-sappiness ramblings that defined the Moldy Peaches and along with them New York's Anti-Folk scene, a loose gathering of D.I.Y. poet-singers that packed them in at the Sidewalk Cafe on Avenue A in the late '90s. Mr. Green's new album is packed with strutting blue-eyed soul, gospel-backed crooning, and full-on country-fried rock. Perhaps not the aching preciousness Juno fans would clamor for. But how did Green get from A to B, and is it all a big gag?
After all, Mr. Green still manages to pack an awful lot of wordiness, nerdiness, and (yes Michael Hirschorn) quirkiness into his songs, yet beyond his lyrics, he shows an intense interest in refining the musical underpinnings. He's still got the up-for-a-few-days sunken eyes and aloof stare, the grease-slicked wavy locks and the pudgy weariness of a young Harmony Korine (or indeed a bizarre version of his friend Julian Casablancas), but it's matched with a killer horn section. The video for his latest single has Mr. Green shuffling in a dance number with costumed extras, yet his frumpy frug sticks out like a sore thumb, and it's meant to.
On earlier efforts such clashes seemed tongue-in-cheek or worse, condescending, as on the snide cabaret of 2005's "Gemstones." Even 2006's "Jacket Full of Danger," which expanded the musical pallete further with scumbag-rock a la Jim Morrison on songs like the irritating "Drugs," and the roadhousey "White Women," felt like a big joke. The orchestral sweeps and sweet hooks sounded disingenuous, purposefully cheesy.
On Sixes & Sevens it's nearly impossible to tell whether he's joking, and that may even, finally, be beside the point. Perhaps the more rounded musical backing doesn't have to be disingenuous just because Mr. Green still crafts his lyrics from the odd-ends cultural detritus that floats through his brain, pinballing between the profound and the banal, and usually ending up with the latter. Yet at its best moments, it seems Mr. Green achieves a snug fit between his admittedly left-field verbal sense and a more sophisticated musical backing. Even the album art has attained a high gloss, a patina of professionalism art-directed to achieve something like the image of an inner struggle to grow up without growing old.
Apparently this all started last year when Mr. Green visited Nashville, and during his travels got to talking with producers, songwriters, and session dudes, as one will in a city so littered with musicians. It's fair to say Mr. Green is obsessed with Nashville. He can't stop nodding to the town on this album, and has even composed songs for country artists (Kelly Willis). To do justice to the sounds he was seeking, Mr. Green brought in Old-school arranger David Campbell (who has, like, 50 Grammy awards) to perfect that sonic patina. A clutch of gospel singers on the album hails from closer to home, Brooklyn.
While there are plenty of styles on display over the album's 20 tracks (a plentitude tempered by a running time of 48 minutes), most tunes circle around Nashville's great contributions to the realms of country, blues and gospel, all in a laid-back, classic vernacular that wouldn't be out of place on the Leon Redbone or Bonnie Raitt album. If that sounds like a tall order for the gawky, scrappy poet of the streets, it is, but then again why not? In a way the cadences of Mr. Green's lyrics are no less rollicking than these more staid precursors, and if at times they seem out of place, his presence somehow does not.
His smooth baritone takes him a long way, in this sense, evidenced on the opener, "Festival Song," in which Mr. Green bursts in with an epic rocker reminiscent of Badfinger or 10cc, only to straighten out on follow-up "Tropical Island" which drops him in the middle of what could be a Jonathan Richman tune, if Mr. Richman's narratives were a bit more disjointed and a bit scuzzier. Mr. Green deals in shifting, word-packed verses, reveling in the shallower thrills of clever turns-of-phrase, and only rarely offers something more lastingly evocative, as on the politically minded "Getting Led," "I was a nation / bound to my station … you saw beyond me / pounding down on me / Getting led, getting led, getting led." On that one he's at his best, channeling Leonard Cohen and New Morning-era Dylan, making the gospel backing actually make some sense.
the shuffling, horn-laden single "Morning After Midnight" shows Mr. Green at perhaps his most unaffected and yet seemingly at the top of his oddness, a bit of E Street Band and a scruffy croon alongside fractured, pat lyricisms, ending with a "cha, cha, cha." Follow-up "Twee Twee Dee," is a sweet-as-pie come-on, with strings, a nice organ backing, and shambling drumbeat. If you didn't listen too close you might miss the stuff about "matching underwear" or the self-conscious referentiality of the title (as well as its reference to Michael Hurley's classic SweeDeeDee).
Of course with 20 tracks they're not all winners, but at least the real clunkers are as short as the killer stuff. On a lot of songs Green seems lost in the mix, as though hesitant to step forward and own every single track. Then there are a few moments where messy piles of instrumentation prove too much, as on "You Get So Lucky" where pan flutes and electric sitar and more, apparently influenced by Don Cherry's irreverent instrumentations, effectively spoil the Leonard Cohen intensity that Mr. Green's voice achieves on the track. "That Sounds Like a Pony" simply irritates with a rapid-fire, slightly-bored-sounding Mr. Green rattling off a bunch of rhymes over snare rolls, like an exercise in keeping the album sufficiently weird.
There's plenty more to choose from, be it the orchestral folk of "It's a Fine," the twang of "Homelife," or the Lou Reed channeling of "Be My Man" (if Lou talked about the L train rather than heroin). "Drowning Head First" is the most song reminiscent of Mr. Green's earlier work, his scratchy, plaintive vocals answered by girlfriend Loribeth Capella as that beat-up guitar strums away between them. It ain't much if Juno fans come looking for twenty Moldy Peaches tunes, but it will have to do, and hopefully those who do snap up this album for Green's pedigree will find the expansion of his musical palette a pleasant surprise.