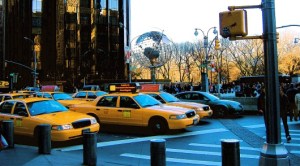 The City Council is holding a hearing on the final report of the city-state traffic mitigation committee, as the deadline to enact Mayor Bloomberg's congestion pricing plan nears.
The proposal needs to get the green light from the City Council and the state Legislature by April 7 for Manhattan to receive $354 million in federal funding.
Last week, Governor Paterson endorsed the proposal, giving it a much-needed boost in Albany. But garnering public support for the project may prove more difficult for Mayor Bloomberg, based on the results of a survey released this morning by Quinnipiac University.
Half of the 1,528 city and suburban New York voters polled oppose charging fees to drivers of vehicles south of 60th Street in Manhattan. But a 60 percent majority of voters polled support the congestion pricing plan if revenues were used to improve mass transit.
Nearly 70 percent of New York City voters were in favor of the Mayor's congestion pricing if revenues are reinvested in public transportation, while 27 percent opposed it. Opinions were more divided in the suburbs, with 51 percent in favor of the plan, and upstate voters support it 59 percent.
But half of the respondents said it was "not too likely" or "not likely at all" that congestion pricing money would be used for mass transit, compared to 42 percent who said this is "very likely" or "somewhat likely."

"The clock is ticking on New York City Mayor Michael Bloomberg's congestion-pricing plan," said the director of the Quinnipiac University Polling Institute, Maurice Carroll, in a statement.