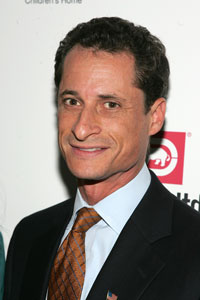 Has anyone else noticed that Anthony seems a lot more, well, serious lately?
Perhaps fittingly for a maybe-front-runner for mayor, he seems to have toned down the old act, purposefully passing up opportunities to crack wise at the expense of his opponents.
For example: I asked Weiner to comment on Michael Bloomberg's $500,000 donation to Republicans in Albany—a solid opening for the old Anthony Weiner, especially given the fact that his two likely mayoral opponents, Christine Quinn and Bill Thompson, were so recessive in their on-the-record reactions.
He politely declined.
But surely Weiner would have some witty riposte after Michael Bloomberg derided his opposition to congestion pricing as "one of the stupider things I've ever heard said," and "insanity."
Again, nothing.
Or take this recent appearance on Inside City Hall, in which Weiner again sniffed at an opportunity to engage, saying, "I was raised in Brooklyn. Name-calling is fine, part of the game, perhaps. But this is a serious issue that we need to understand."
Hardly recognizable as the guy we've seen before. Oh, well. Marty Markowitz, the stage is yours.