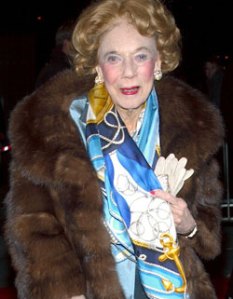 The library alone at Brooke Astor's 778 Park Avenue duplex, with floor-to-ceiling bookcases that got no less than 10 coats of scarlet lacquer, launched a thousand high-heeled Upper East Side adjectives. The philanthropist's apartment was, until late July 2006, one of those co-ops that had long been fawned over as a perfect American home.
But that month, when Astor was 104 years old, her grandson Philip stated in court papers that the duplex had become a kind of dilapidated prison: He claimed his 82-year-old father, Anthony D. Marshall, was pilfering Astor's fortune while she wallowed there. "Her bedroom is so cold in the winter that my grandmother is forced to sleep in the TV room in torn nightgowns," the papers said, "on a filthy couch that smells, probably from dog urine." (A judge later found claims of elder abuse to be unsubstantiated.)
Astor died last August. By November, Mr. Marshall faced a 16-count indictment based on larceny; he pleaded not guilty.
And this month, agents from five of the city's top brokerages met in the 778 Park duplex's famous library to audition for the listing. The apartment could go on the market for $46 million, if not more, which would be one of the largest listings ever in New York. Even with the scandal, it will be one of the most important properties to hit the market this year.
Still, those broker auditions must have been odd: On the one hand, there were bankers from JPMorgan Chase, the firm that became Astor's court-appointed guardians in 2006, after Mr. Marshall agreed to give up control of his mother's affairs.
And then there was Mr. Marshall himself, the heir to the apartment, and his wife, Charlene. Reached at their apartment nearby, Ms. Marshall told The Observer that the broker interviews were not their idea. "We did not initiate that," she said, "the bank initiated that."
The couple has even considered moving into the Astor duplex. "Sure, we're thinking about it," she said. "Her apartment has that wonderful terrace and little library! I wish life were more simple, but it isn't."
On the plus side, she said her mother-in-law had bequeathed the apartment to her husband in every will since 1963, so there's no question of who the place belongs to, or who decides its fate. "He's still the heir," one of the interviewed brokers told The Observer. "It took me a while to wrap my mind around that, but it is the case."
With all this history, it's not surprising that the top brokers didn't go in alone: Brown Harris Stevens' Mary Rutherfurd came with her firm's formidable president, Hall Wilkie; Stribling's Kirk Henckels went in with colleague Margaret Furniss, who knows the Marshall family from church; Sotheby's Roberta Golubock came with her president and CEO, Kathryn Korte; Elliman's Rebecca Steindecker and Catherine Durgin were there, too, probably because their firm manages the building; and Leighton Candler represented Corcoran, though it isn't clear if she was alone.
When asked who was her favorite broker, Ms. Marshall said: "Tony and I have had so little time since we were there to even discuss it, because there are so many other things on the table."
None of the brokers would comment for this article. But one said the duplex is configured now as a three-bedroom, with a massive master suite, but that there could be as many as five bedrooms, with space for staff left over. "If that's living shabby," the broker said, when asked about the grandson's court complaints, "then let me live shabby."
Still, a buyer would almost certainly redo the place, considering that it hasn't been renovated in years. That'll upset the godly interior decorator Albert Hadley, who likes reciting the tale of how his design for Astor's most famous room came about: "I said," he told The Observer this week, "'If I were you, I'd get rid of this room and create a proper library.' And she said, 'But, Albert, what do you mean?' And I said, this is fast thinking, 'I think it should be perhaps a bit more up to date but classical and in character.' She said, 'What color?' I said, 'I don't know—probably a wonderful dark red, maybe lacquer, and maybe with brass?' I didn't know what I was talking about. I just said it. But she liked it."