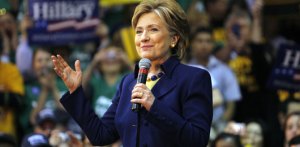 SAN ANTONIO, Texas – It was hardly the kind of symbolism an embattled candidate would hope for: appearing at an event within a stone's throw of the Alamo last night, Hillary Clinton had only spoken for a few moments when the lights illuminating her on the open-air stage went out.
Clinton made no reference to the power failure and normal service was duly restored in time for her to launch her newly-sharpened attacks on Barack Obama.
Using the same concept as her controversial 'telephone' TV ad, Clinton asserted, "When the phone rings at 3 a.m. in the White House, there isn't a time for speeches, there is no time for on-the-job training. You need someone with the strength and experience to make a decision."
Though Clinton's ad had only been launched yesterday morning, Obama's team had a response on the air before the day's end. Clinton then used last night's speech to fire back at the Obama ad, in yet another sign of the breakneck, desperate speed at which the campaign is being conducted in these final days before Texas, Ohio, Rhode Island and Vermont go to the polls.
Claiming that Obama had "just put up an ad touting his policy about Afghanistan"—a technically accurate though debatable characterization of the Obama spot—Clinton went on to lambaste her rival for alleged inattentiveness to his duties as chair of a Senate subcommittee that deals with Nato matters.
"He didn't hold one substantive meeting to try to figure out what else we needed to be doing to win in Afghanistan," Clinton stated. "As he said, he was too busy running for president."
As the crowd jeered Obama, Clinton added, "Well, I believe winning the war in Afghanistan is the most important challenge we face, and I will take it on and be successful when I am the president of the United States."
Though Clinton's speech was awash in standard stump phrases – "Are you ready for change in America?" and suchlike – her underlying theme seemed once again to be her capacity to deliver results.
"I am not just offering speeches," she said, "I'm offering 21st century solutions."
She also sought yet again to portray Obama's health care plan as less complete than hers, once again, in starkly emotive terms.
She first spoke about last night's rally in Houston, after which, she said, a young girl of about 10 passed out while waiting with her mother to greet Clinton. Though the girl seemed fine afterward, Clinton said she suggested the mother should have her daughter's health checked—only to be met with the mother's confession that she did not have health insurance.
Clinton used the anecdote—just as she had used a much more somber story at the Houston rally itself—as the hook for an attack on Obama's proposals.
"He does not have a plan that would cover every person," she insisted. "I think that's a mistake because who would you leave out? [To] which of the people in this crowd would you say, 'We're sorry, we're not going to give you health insurance'?
"I am not running for president to put band aids on our problems," Clinton continued. "I'm running for president to solve our problems."
Clinton famously accused Obama of plagiarism at a CNN debate almost two weeks ago. But the former First Lady has also proven adept at appropriating at least the general gist of Obama's remarks for her own purposes. That tendency continued last night when Clinton said to the audience toward the end of her speech, "If you stand with me over the next four days, I promise you I will stand up for you every single day". She closed with the line: "Starting on Tuesday, we will take our country back and we will change the world."
Obama customarily asks his audiences to "stand with" him as election days approach, and for several weeks at least he has been using an almost identical closing line to the one deployed by Clinton last night.
The ongoing battle over language was evident even before Clinton arrived here, when the crowd heard from Dolores Huerta, who co-founded the National Farm Workers Association with Cesar Chavez and is credited with coining the phrase "Si, se puede."
"That phrase means something to us," Huerta told the heavily Hispanic audience of around 3000. "We don't like it when they use it without earning it."
In one of the evening's more peculiar moments, it fell to Huerta, whose life has been dominated by hard-fought battles for civil rights, to announce the former First Lady's most recent glamorous Hollywood endorser.
"One of our greatest stars has come out today and endorsed Hillary Clinton," Huerta said with a flourish. "Eva Longoria is part or our team."