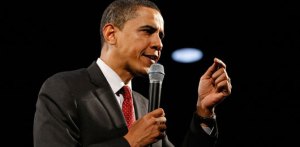 If Barack Obama prevails over Hillary Clinton to become his party's nominee, it will mark the end of an era for the Clintons. But the agenda of the group that devised their national political identity will be just fine.
At least according to Al From, the founder and CEO of the resolutely centrist—Clintonian, even—Democratic Leadership Council.
"What he has done is he has certainly taken a good part of the strategy we have articulated over the years," Mr. From said. "Which is to not polarize, but try to unite and build a coalition that understands that a Democratic victory is a coalition."
Mr. From said Mr. Obama had an intellectual, and not just tactical, connection to the D.L.C.
"I mean his chief economist, Austan Goolsbee, is a fellow at the Progressive Policy Institute, which is our think tank," he said.
Mr. Obama is not the most obvious candidate to be the group's standard-bearer. Mrs. Clinton has more history with the Council, which enjoyed its high-point in influence and profile when she and her husband were in the White House. And while Mr. Obama has presented himself as a great unifier, Mr. From has, for all of his third-way ideas about cross-aisle cooperation, proven himself a vicious party in-fighter, fairly reveling in the opprobrium of left-leaning bloggers and progressive think-tanks.
Mr. From said that he would not be so presumptuous as to call Mr. Obama the purest D.L.C. politician out there. But he nevertheless believes Mr. Obama has adopted whole-cloth the approach to winning elections that he and his cohorts had long advocated. He said Mr. Obama belonged to the group that had, despite "all the screaming and yelling and the blogs," chosen the D.L.C. approach to the more partisan beat-'em-in-50-states philosophy advocated by Howard Dean.
"There has sort of been a choice in the Democratic Party politics, particularly in the last four or five years," said Mr. From. "A lot of people think that the way the Democrats ought to operate is to mirror Karl Rove. Go off to the other side and hammer him. Just talk to the Democratic voters because there are more of them out there and they will put you over the top.
"The other is what I call a D.L.C.-Clinton strategy which says we have to offer solutions and big ideas and approaches and reach out and not only appeal to Democrats but have a broader appeal to independent and some Republicans because in the end there aren't enough Democrats to win," he said.
This, Mr. From said, was Mr. Obama's approach.
"A D.L.C.-Bill Clinton strategy prevailed in 2006," he said. "We won the Congress not because the electorate became that much more Democratic or liberal but because we were able to capture voters in the center of the electorate. I think Obama has carried that on."
Mr. From made it clear that he thought Hillary Clinton was also a candidate in the tradition of her husband and the D.L.C.
"She is for a lot of the ideas," said Mr. From, adding that Mrs. Clinton had been a consistent supporter of the group's thinking. "The D.L.C. is about many things. One part's about political strategy but fundamentally it's about ideas."
Before the presidential campaign and the demands of anti-war constituencies pulled Mrs. Clinton left, she had a somewhat hawkish reputation, and like the D.L.C., she initially supported the war in Iraq. In 2006, Clinton also worked with the D.L.C. on something called the American Dream Initiative, a project that preached more fiscal and individual responsibility in the Democratic Party.
"If you look at that and look at a lot of the policies she has recommended in the campaign," said Mr. From, "a lot of the policies came from that. But the truth is that a lot of Obama's ideas have come from that and a lot of other D.L.C. work too."
Of course, groups committed to steering the party in another direction aren't about to allow Mr. From to lay claim to Mr. Obama. At least, not yet.
Steven Clemons, a senior fellow at the rival, more liberal New America Foundation, finds any connection between Mr. Obama and the ideas of the D.L.C. tenuous at best.</p.
"I think Obama's political franchise is a very, very big tent," said Mr. Clemons. "And I think a lot of institutions organizations and parts of the political spectrum are going to try and lay claim to him. But one only has to spend about 30 seconds on the Internet before finding Obama positions that run completely antithetical to the things that the D.L.C. and P.P.I. have put out."
Mr. Clemons cited Mr. Obama's positions on NAFTA and globalization, economic liberalization and human rights in China as places where he diverged with the generally trade-friendly D.L.C. He said that Mr. Obama's repeated insistence that he would meet personally and unconditionally with leaders antagonistic to the United States was much different that the thinking of Will Marshall, the president and founder of the Progressive Policy Institute, and Peter Beinart, another foreign policy expert in the D.L.C. vein who wrote a book called "The Good Fight: Why Liberal—and Only Liberals—Can Win the War on Terror and Make America Great Again."
"I think Obama is in a completely different place," Mr. Clemons said.
He suggested that the D.L.C. felt able to attach itself to Mr. Obama because of the candidate's own lack of definition when it came to the policies in which he believed.
"Obama has created a new doubt in the media and some circles about what he is really about because he has tried to embrace so many people and he can't deliver to all of them," said Mr. Clemons. "I really see Al From trying to shoot a cannon across the bow early and say 'he is ours,' when in reality, the Economic Policy Institute will try and say 'he is ours.' The A.F.L. will say 'he is ours.' And lots of other groups will say 'he is ours.'"