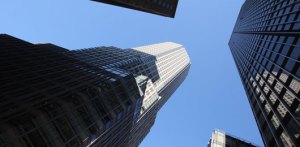 With 1.6 million square feet of office space in Manhattan, Bear Stearns is not a titan in the real estate industry, but industry professionals are watching close as the bank's collapse could send ripples through the commercial market.
The precise implications of the investment bank's implosion for the Manhattan office market are not yet clear—for one, the JPMorgan Chase-Federal Reserve buyout is not a done deal; and the amount of layoffs Bear Stearns' potential new owners would institute is uncertain—though some real estate professionals say the collapse could be the spark that pushes down office rents for the first time in years.
"It's gigantic in what it represents," said Mark Weiss, a principal at brokerage Newmark Knight Frank. "This is going to make landlords start to think about a reduction in demand, and, in fact, contraction. And with the belief that there may be contraction, will come price reduction."
Bear Stearns has its space in Manhattan spread between five buildings, according to figures from brokerage CB Richard Ellis. The bulk, 1.1 million square feet, is in its headquarters at 383 Madison Avenue, a 45-story skyscraper built in 2001, complete with trading floors.
Any change to Bear Stearns' current space could take some time, brokers say, and may depend on a reevaluation by JPMorgan of its needs. "I don't think you'll see a lot of things happen overnight—I think it will take months," said Robert Stella, a principal at brokerage CresaPartners.
JPMorgan, with 5.6 million square feet in Manhattan in mostly buildings it owns, according to CB Richard Ellis' figures, has said it intends to move its investment-banking headquarters to 383 Madison. Such an acknowledgment begs the question of what on earth will happen to the investment-banking headquarters it had intended to build downtown on Port Authority land across from Ground Zero. That planned 40-plus-story building had, at least according to preliminary designs, a giant goiter jutting out to hold 60,000-square-foot trading floors.
The Port Authority says it thinks JPMorgan is still committed to the site. "We basically have every indication that JPMorgan continues to see the building as an attractive location," Port Authority spokeswoman Candace McAdams said.
The 2007 agreement to erect the building was nonbinding, and there still is a partially demolished tower on the site, the former Deutsche Bank building, that hasn't gotten an inch shorter since a fatal fire last summer (though full asbestos abatement begins next week). Given that JPMorgan may get its trading-floor fix at 383 Madison, a government official said the shape of JPMorgan's tower downtown may now change, and the company still appeared interested in building at the site.
The building at 383 Madison is considered a gem by many in the industry and is thought to be worth more than $1 billion.