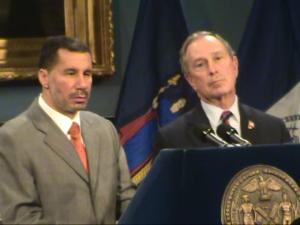 Michael Bloomberg just had his first press conference with Governor David Paterson at City Hall, which ended with a correspondent from Inside Edition asking how the governor's marriage survived infidelity and what advice he had for other couples.
The mayor, who is divorced, stepped in and said, "Let me try to answer that." He proceeded not to, saying instead that there are more important issues to deal with.
Here's what else happened:
When the mayor was asked if he's still committed to helping Republicans in the State Senate, Bloomberg said, "I have every intention of continuing to support those who voted for this city, stood up for things that I believe in, for example, gay rights and taking over the big M.A.C. funding, and enhancing education aid and voting for a $6.5 billion state program for schools. Joe Bruno and his people have done that."
Paterson said he's still considering the issue of congestion pricing, and said that the mayor "seems to really have a thing" for it.
When the governor was asked about raising taxes on high-income earners, he said he didn't think it was where the state should be headed, but added, "I'm not going to rule it out only because I don't know how far this is going," referring to the worsening fiscal climate nationally.
Dave Seifman asked Paterson about a woman's claim, reported in the Post today, that she tape-recorded conversations with him proving they had a relationship, and that he helped her get her current education job in Brooklyn.
"I know her—not that well," Paterson said, before adding, "Any conversations she tape-recorded with me could be played in this room [and] it wouldn't be interesting."
Then Paterson had a photo op with City Council members and was whisked out the back door of City Hall.