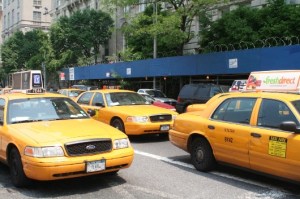 After a few months of relative inactivity, Mayor Bloomberg's congestion pricing-touting road show is back in full force, pressing the topic nonstop, presumably ending with the March 31 deadline (which now seems to have become April 7) to gain approval or jeopardize more than $350 million in federal funds.
This morning the mayor hit up a Crain's breakfast forum at the Ritz Carlton downtown, appearing with the secretary of the federal Department of Transportation, Mary Peters, to recite the now very familiar arguments for the plan.
From the Ritz, the mayor and Ms. Peters went to hop aboard the Staten Island Ferry (they took SUVs the few blocks to the terminal), after which they were scheduled to demonstrate a signaling system in Staten Island that could be part of a bus rapid transit program should congestion pricing happen.
With time dwindling before the deadline, Mr. Bloomberg let loose a few barbs in the Q&A at Crain's, throwing a jab at anti-congestion pricing crusader Representative Anthony Weiner.
The mayor was asked a question about the suggestion by Mr. Weiner that the added revenue from congestion pricing would make it harder to procure money from Congress.
Mr. Bloomberg's response:
I have nothing against any one congressman, [but] that is one of the stupider things I've ever heard said. Forget the fact that he's one of the congressmen who's supposed to get the money for us. The Democrats control—his party controls Congress—what's he talking about? Number two, by that argument, we should cut all the taxes, which some people would like, and then just sit here and wait to give us all the money back. Are you kidding? It's insanity.
Though it should also be noted that Mr. Bloomberg suggested in his remarks that the federal government may be less willing to give New York federal funding if it does not approve congestion.
The mayor also took a shot at the press with respect to its coverage of the newly-sworn in governor. Asked why he thinks Governor Paterson hasn't taken a position on congestion pricing, Mr. Bloomberg made a tacit reference to yesterday's barrage of coverage on Mr. Paterson's admission of having an affair with a state employee.
"It's a question you should address to him, and maybe it's a more appropriate question to ask than the questions the press has been asking," Mr. Bloomberg said.