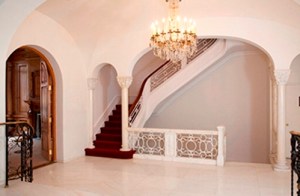 When the double-wide townhouse at 14-16 East 67th Street (known as the Guccione Mansion until last year, when a smart broker changed the name to Milbank) went to contract last month, the New York Post sighed that the buyer, hedge fund titan Philip Falcone, managed to "whittle the $59 million asking price down to well below the current townhouse record of $53 million."
Still, according to city records filed this morning, Mr. Falcone and his wife, Lisa, paid $49 million–the third highest sum ever paid for a townhouse in New York City–for the 27-room house. It belonged to Penthouse publisher Bob Guccione until he essentially lost the house to foreclosure in 2006. (As it actually happened, he had to sell to investors led by Laurus Funds, who had bailed him out back in 2004 with a high-interest loan, the very day there was a moving van outside the pornographer's house.)
The listing broker, Brown Harris Stevens' Paula Del Nunzio, had no comment. This sale didn't beat the $53 million mark set by the Harkness Mansion, and yet Ms. Del Nunzio still owns the townhouse record, because she was the Harkness' listing broker.
This was probably a harder mansion to sell. "I don't know what to say, it was a wonderful and odd house with such an incredibly varied past, and I hope somebody at some point brings it happiness," Corcoran senior vice president Leighton Candler, who had the listing before Brown Harris, said.
Speaking about features like the first floor's massive, shimmering Roman-style pool, she said: "It's odd to talk about houses like this, but that house had an odd energy to it." So, were experts brought in to remedy Mr. Guccione's energy? "Certainly… I hired two different feng shui people to look at it, and we had quite a few clearings on it. But that never stopped people from having odd feelings about it. Whenever people brought in children, they were ready to leave."
But maybe things have changed. The Falcones' $49 million deed wasn't accompanied by mortgage records, which suggests they paid in cash.