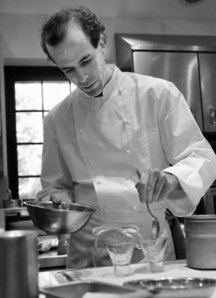 Dan Barber really likes to read, so he gets excited when people who work in publishing eat dinner at Blue Hill, the super fresh, locally sourced restaurant that he opened seven years ago in Greenwich Village. Mr. Barber, who also runs the celebrated Blue Hill at Stone Barns outside of Tarrytown (the restaurant is on the same land as the working farm where much of Blue Hill's food comes from—see baby lamb, eat baby lamb!), says that when he recognizes the name of a publisher or an editor on his reservation list, he invites them to his kitchen after dinner to say hello and to talk about books.
These informal kitchen chats have been happening with some regularity since Blue Hill opened, but in recent weeks, the relationship between braininess and Berkshire pork has become more official. Mr. Barber recently signed with high-powered literary agent David Black—the two of them first met when Mr. Black came to eat at Blue Hill—and together, they have been shopping a couple of ideas to publishing houses around town.
According to Mr. Barber, the meetings he and Mr. Black have taken so far have been purely exploratory. "I don't have a formal proposal," he said. "I don't even know what a formal proposal is!"
Instead, he explained, he submitted to editors what is essentially a magazine article not so different in pace or form from his recent piece in The New York Times Magazine about trying to naturally breed almond-flavored carrots. The book he envisions would be comprised of a bunch of these essays—taken together, he said, they would amount to a narrative about the culture of eating and sustainable agriculture as expressed through stories about "all the different farmers and characters" whom he's met over the course of his career as a chef.
Mr. Barber also wants to write a cookbook that focuses as much on where ingredients come from and how they are harvested as it does on what to do with them in the kitchen. "It's meant for the home cook," Mr. Barber said. "It's not meant to say that in order to have this meal you have to grow your own carrots."
It's unclear when these books will have a publisher; Mr. Black would not comment for this story, agreeing only to confirm that he and Mr. Barber are working together. But unless someone goes for an early preempt, a heated auction is likely and, if industry insiders are to be believed, a deal should be done by next month before all of New York publishing leaves for the London Book Fair.