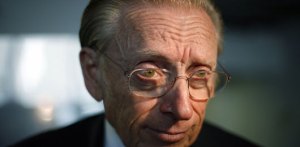 A global credit crunch and looming national recession have turned a once bustling market for commercial real estate on its head, as the level of leasing and sales within Manhattan has plummeted.
But could the dour economy, by putting a damper on proposed office building development, actually turn out to benefit the future World Trade Center towers?
Such a scenario now seems plausible, real estate professionals say, given recent local history, when booming job growth and economic expansion have tended to follow a recession by only a few years.
Just as the few developers who went ahead with projects in the dark days of 2002 reaped great rewards a few years later as employment grew and Manhattan's office supply remained relatively flat, developer Larry Silverstein and the Port Authority, led by executive director Anthony Shorris, could score big if the economy expands at the right time.
"Banks have substantially tightened up—developers no longer have the free access to money to build speculative projects," said Avi Schick, chairman of the state-run Lower Manhattan Development Corporation. "You look at downtown, and you say, downtown is going to have an edge, because there are six towers that are being built or planned. Everything is in place to make those happen."
While not all agree that the World Trade Center towers will be an instant success—a recession could deal disproportionate injury to financial services firms, and could shoot up vacancy downtown, some contend—there seems to be a widespread feeling that despite a slowing economy, the conditions at the site are stronger than they were just a year or two ago.
Less citywide construction could lower costs at the World Trade Center site, a government official said. And the completion dates for the buildings developed by Mr. Silverstein and the Port Authority—2012 for the Freedom Tower and Towers 3 and 4, and 2013 for Tower 2—should allow them to skip any current economic uncertainty.
"The marketplace in New York still needs new office space—we don't have enough of it," said Peter Riguardi, the president of the New York office of brokerage Jones Lang LaSalle. "I'm bullish on the World Trade Center."
Surrounding the four World Trade Center towers—three of which have started or are soon to start construction—will be three of the country's largest investment banks, one of which, JPMorgan Chase, could possibly further expand its presence.
"They're considering ways to maximize the number of employees who can be downtown," Mr. Schick said of JPMorgan.
The firm agreed in June to move to the site of the former Deutsche Bank tower—which is inching toward demolition after a fatal fire last summer—and to bring the world headquarters of its investment banking division, including about 7,000 employees, to the site. The preliminary design of the tower released last June would have a prominent set of trading floors that cantilever over a church below, an architectural feature dubbed by Steve Cuozzo of the New York Post as a "beer belly." JPMorgan declined to comment about any possible changes or expansion to the tower.
Add to that the continued presence of Merrill Lynch, which back in December came to the brink of an agreement to relocate to midtown, a move that would have opened up a cavern of almost three million square feet of available office space at the World Financial Center just as the World Trade Center towers nearby were coming online, in 2013. Such a move surely would have changed the mood downtown overnight.
Merrill has been in talks with Brookfield Properties, its landlord, to extend its World Financial lease by five years, to 2018. A Brookfield spokeswoman, Melissa Coley, said the landlord was "in the midst of active and productive discussions" with Merrill.
Massive subsidies, too, will surely play a role in any successes at ground zero.
For both the World Trade Center and Lower Manhattan as a whole, the city, state and federal governments have showered billions of dollars into various infrastructure investments, tax and rent incentives, and lease deals to draw businesses downtown, making any company's move to Lower Manhattan far less costly than one to midtown.