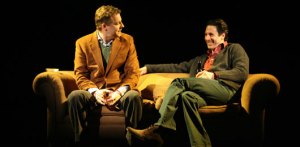 You might want to think twice about seeing Drunk Enough to Say I Love You? at the Public Theatre. The radical politics of the distinguished feminist playwright aren't giving me pause; it's the $50 tickets that trouble me.
I'm no mathematician, but by my reckoning, $50 for an evening lasting 45 minutes amounts to $3,852 a minute. If you ask me—and please do—that's outrageous. It's a lot. Facts don't lie. Caryl Churchill, the principled anti-American British socialist, is charging us proportionately more to see her extremely short play than Mel Brooks, that well-known apostle of insatiable Yankee greed and global domination, is charging for his multimillion-dollar Broadway extravaganza Young Frankenstein.
Furthermore, there are only two actors in Ms. Churchill's play, and they don't even sing "Puttin' on the Ritz." Does that seem fair to you?
Would $50 for 45 minutes (without intermission) make any difference had Ms. Churchill written a masterpiece? I say it would. And it wouldn't. For a voluntary donation of 10 bucks, I just saw the Gustave Courbet exhibition at the Met, and I can tell you that if it comes to a choice between Ms. Churchill's playlet and Courbet's L'Origine du Monde, I know where I stand.
Look at it this way: A theatergoer usually likes to see a show with someone else, a spouse, a loving, patient partner, a date. That's two tickets at $100 for 45 minutes right there. Then there might easily be dinner after the show. After all, there's time. Make-a-night-of-it sort of thing. Compensate. Why not discuss the show with your loved one over a modest meal and a drink or two in a friendly atmosphere? Not to complain: That's another $100-plus, unless you stick to first courses and pick.
You are now unhappy. Also, you finished discussing the extremely short play before you were even done with your insalata mista.
The night at the theater has left you dissatisfied. Traipsing home, you feel short-changed. You might think that you've been lectured by Ms. Churchill about lots of things you already know. You might even agree with David Mamet's recent pronouncement in The Village Voice, titled "Why I Am No Longer a 'Brain Dead Liberal.'" And it's all because of the price-gouging, righteous anticapitalist Caryl Churchill.
DRUNK ENOUGH TO Say I Love You? is the least mature work I know of in Ms. Churchill's considerable repertoire (which includes her 1983 Top Girls, to be revived at the Public later this season). Drunk Enough scarcely makes a play. It's a stylized sketch, a sledgehammer rant, a glib political cartoon that arrives from London's Royal Court Theatre much too late in the day.
A psychosexual drama of sorts, it's about the "special relationship" between two gay men. One is named Sam (played by Scott Cohen). Sam is really America. (In case you don't get it, your Playbill coyly describes him as "a country.") The other, nicer fellow is named Guy (Samuel West). Think craven Tony Blair, or a self-loathing England. Guy has left his wife and children to become Sam's submissive lover and political poodle.
The issues are old hat. (After all, Mr. Blair is toast, Mr. Bush almost toast.) The arch, fragmented dialogue—no sentence is ever completed—consists almost entirely of relentless laundry lists of real and imagined U.S. crimes against humanity, as complicit, gullible Guy grows increasingly guilty on a levitating sofa the two lovers share.
The sofa levitates a little higher with each brief scene. It must be a symbol. The British director James Macdonald wants to convince us that we're in solemn attendance at the Temple of Art. Actually, we're at a theatrically chic equivalent of a sermon by the Rev. Jeremiah A. Wright Jr., the only difference being that the lacerating political rhetoric of the Rev. Caryl Churchill also provides us with a gay soap opera.
Will the weak, compromised Guy finally leave the callous, bullying shithead Sam? Or will Sam's perverse fatal attraction prevail? "Love me, love me, you have to love me, you …" goes the last unfinished line of the evening—spoken, inevitably, by Sam.
Good old clichéd Uncle Sam; poor old England, eh?
TWO OR THREE memories of the greatest stage actor I've ever seen: Paul Scofield, who died on March 19, age 86, in the Sussex countryside where he lived with his wife of 55 years, the actress Joy Parker. I was saddened by the news of his death as if I'd known him all my life. Yet few people knew Scofield at all.