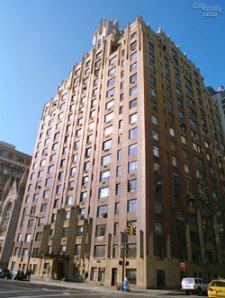 The most expensive co-op listing ever on Central Park West came and went last month without making a sound.
On the morning of Friday, Feb. 21, the Web site of Brown Harris Stevens showed that managing director Sami Hassoumi had put the 12-room duplex penthouse at the Art Deco landmark 55 Central Park West on the market for $36 million.
According to records, the seller is indie music figurehead Steve Gottlieb, whose record label TVT has released albums from bands like Guided by Voices and Nine Inch Nails, but also the rappers Lil Jon and the Ying Yang Twins. He bought the penthouse back in 1999 from Calvin Klein, paying $8.6 million (beating out a reported $7.5 million offer from Diane Sawyer and Mike Nichols).
According to this listing, "the space of approximately 5,000 square feet is gutted," which means that Mr. Gottlieb and his wife (like Mr. Klein before them) still haven't renovated after all their time there. They're probably less motivated because they own another apartment in the building, records show—although it probably doesn't have features like the penthouse's "Tower Room," with double-height ceilings and fireplace, or a glass-enclosed "Garden Room" that leads to a big corner terrace.
On the downside, the monthly maintenance is $10,691.
The refusal to renovate fits into the penthouse's history. According to a 2005 New York magazine article, the apartment passed from the Broadway composer Jerry Herman to Mr. Klein (who put an illegal hot tub on the terrace), to his friend David Geffin, to the producer Keith Barish (who had decided against buying the place from Mr. Klein after putting down a $390,000 deposit), back to Mr. Klein, and then to Mr. Gottlieb. "But seven years later," the magazine wrote then, "after problems with the board and Landmarks, Gottlieb has still not started renovating."
This reporter left a message about the listing at Mr. Gottlieb's office the Friday afternoon that the listing hit; he didn't return the call, and by Monday morning, the listing was taken down from the Internet.
Mr. Gottlieb might not have wanted the press that comes with such a big listing because of the trouble at TVT Records. Earlier in the week that the penthouse was listed, his label filed for bankruptcy protection—after suffering through an industry-wide sales slump, not to mention a $9.1 million court judgment for interfering with another label's arrangement to release old music from a TVT rapper named Pitbull.