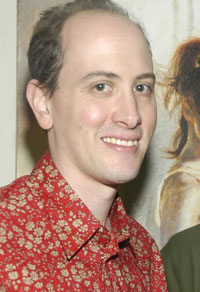 It was a cheeky idea, listing Chris Napolitano as a co-host last night at Hotel QT. Imagine, the editor of Playboy magazine co-hosting a party in honor of a book on Christianity, Daniel Radosh's new one: Rapture Ready!: Adventures in the Parallel Universe of Christian Pop Culture.
Some of the people Mr. Radosh interviewed as part of his research for the book came to the party, too. Everyone else was either a Scribner editor or Nick Denton/Maer Roshan. Jeff Bercovici and Alex Balk were there, too; also fully nine people besides Mr. Napolitano who worked at Playboy and maybe a dozen Oberlin grads.
A 58-year-old Vietnam veteran named Chris MacIntosh, who hosts a Christian rock radio show out of a college station in Long Island, stood by the wall in the back. Mr. Radosh had come up to his studio to visit him when he was working on his book.
How was Mr. MacIntosh enjoying the party?
"Oh, it's great, I love it," he said. "I was talking to the editor from a publication called The Brooklyn Paper. And I was talking to another guy who's a blogger that's friends with Daniel. Everybody seems to be having a really, really good time."
A young man wearing little swim trunks and a bath towel—described by the maestro of the evening, literary agent David Kuhn, as "very tall and lean"—walked into the party and got a drink at the open bar. The young man was dressed that way because the party was right next to a room with a swimming pool in it.
Mr. MacIntosh, the radio man, put on his coat and left pretty early. A fashion designer named Honey Jernquist who creates patterns for Levi's didn't though. Neither did the writer A.J. Jacobs, nor did Internet personality Andrew Krucoff.
Nor did Mr. Radosh, for that matter.
He was talking about his book. "I'd say most Americans, including many Christians, never step foot in this world," he said. "You think you know everything about pop culture, you think you're a reasonably savvy New Yorker, you watch The Daily Show, you download the songs from the iTunes, and then you discover that there's this entire universe that is very similar but has this completely different spin on it."
Mr. Radosh said he was fascinated by the people who existed in this alternate universe. "I really wanted to know what makes them tick," he said. "What does it mean to the people for whom it means something?
An editorial assistant from Scribner sipped a drink nearby. "It's not a typical book party," she said, kind of giggling. "There's a pool!" Then: "It's more new media."
A YA novelist who will turn 30 this spring looked around the room. "It's super hot, it's super crowded, it's exciting," she said. "I would say I'm too intimidated to try to meet anybody. But I was trying to spot the author, and I just saw A.J. Jacobs. That was exciting. … I work in children's publishing, and we operate in this parallel zone of writers and editors, so for me this is like going into the big kids' room."
Mr. Napolitano was talking about his magazine and religion.
"It's funny, I find that Playboy goes over better with Catholics than with Christians," he said. "It's okay to look at the menu as long as you don't order—that's kind of the Catholic way of dealing with Playboy. But for Christians there is no accommodation. And yet many purported Christians do things that I would consider very sexy and in line with the Playboy philosophy."
"It's a very warm feeling towards everybody," he said, when asked to describe that philosophy. "We are very tolerant of almost every belief or understanding. …The other thing is just embracing our humanity and our sexuality and how we fit into it. It's a very optimistic, utopian kind of thought. It's very teleological."
Mr. Napolitano said he had noticed the Christian rock DJ with the beard earlier.
"I liked that!" he said. "That was good. I liked his look."