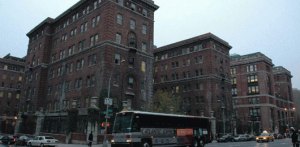 A former psychiatric hospital on the far East Side could be converted into a large hotel, as the Bloomberg administration is considering a transformation of the onetime ward associated with Bellevue Medical Center.
The plan is not the first for the full-block site: Dating back to at least the 1970's, the city has pledged to redevelop the historic complex bounded by 29th and 30th streets and First Avenue and the F.D.R. Drive, which will soon sit near the planned East River Science Park.
Representatives from the Bloomberg administration told community residents earlier this month of their plans for the site, which involve issuing a request for proposals to turn it into a hotel, according to Community Board 6 chairman Lyle Frank.
Mr. Frank said the board would rather see a medical use, given its location near other hospitals. "It's just that it should be a medical corridor, so it should stick with the medical," he said.
A spokesman for the city's Economic Development Corporation said no decisions have been made and numerous options are being considered.