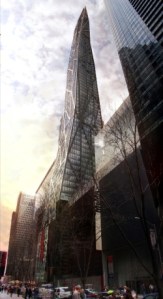 There's been a bit of movement on the MoMA tower front since I wrote about it in this week's paper.
Last night, Manhattan's full Community Board 5 voted overwhelmingly (21-1, according to the board's office) to deny the transfer of air rights from two landmarked buildings to the site for Jean Nouvel's planned 75-story midtown hotel/residential/Museum of Modern Art skyscraper (the community board's vote is only advisory).
The Landmarks Preservation Commission has the official say on the air rights transfers needed for the building, and then the process needs to go through the city's lengthy public approval process, over which the City Council and the Bloomberg administration get the final say.
Today, I noticed an online petition, linked on the Wired New York skyscraper forum (which usually seems to attract a tall building-loving crowd that salivates whenever a rendering is posted for anything over 60 stories), urging the community board to drop its objections.
From the petition:
Some developers still have vision and a desire to add to New York's storied skyline. One such developer is Hines, who is proposing the MOMA Spire in the heart of Midtown Manhattan. This building is designed by Jean Nouvel and is every bit as great as the Empire State Building and the Chrysler Building, which is no small claim.