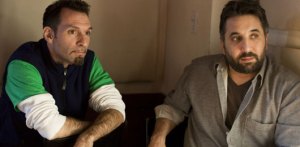 Eater reports that sommelier Paul Grieco's long-awaited Terroir wine bar opens tonight, after some delay, on East 12th Street.
"There's not another wine bar that's run by such a wine figure in the city, I don't think," said Mr. Grieco's partner, chef Marco Canora.
Last week, The Observer sat down with both Mr. Grieco and Mr. Canora to discuss the project, their partnership, and wine bar economics. (Read the interview here.)
Expect "off-the-beaten-path" kinds of wines, as well as a substantial food menu.
"I have a huge advantage because I have this restaurant just down the block," said Mr. Canora, referring to the partners' Hearth restaurant at the corner of First Avenue and East 12th Street. "Somebody else who wants to open a 500-square-foot wine bar and they want to do food? Well, their hands are very tied as to what they can do… I have an entire kitchen over here."