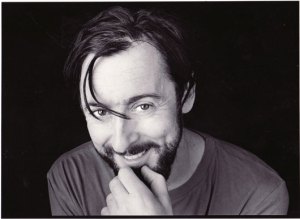 Alan Cumming was excited to play a "real man" in the Classic Stage Company's production of Chekov's The Seagull. Mr. Cumming, the Tony Award-winning Scot with saucer-size blue eyes and a sly grin, recently played Dorothy's scarecrow Glitch in the TV miniseries Tin Man and, um, a spacey scientist called Fegan Floop in those Spy Kids movies. (He also had a delightfully sleazy role as a gay nightlife impresario on The L Word.) But in The Seagull, he appears as Trigorin, a broody famous writer who woos Dianne Wiest's character Arkadina and seduces a budding actress (played by Kelli Garner). "He just seems like a real man," Mr. Cumming said over the phone, walking to Prana Power Yoga for his regular stretch after a recent play rehearsal. "He's got everything, but he wants to destroy it. I've never played anyone like him."
Mr. Cumming decided to take the part last year when the writers' strike loomed and his agent was pushing him to sign movie projects. "All the films I was looking at, I was like, iiillck," he said. Plus, Mr. Cumming, 43, had longed to appear in Chekov's study of impossible love and creative torture—though he hoped to play the much younger, avant-garde playwright Konstantin (that role went, appropriately, to Ryan O'Nan). "The years have gone by and I missed my chance," sighed Mr. Cumming.
The Seagull plays at Classic Stage Company, 136 East 13th Street, Tuesday through Friday at 8 p.m., Saturday at 2 p.m. and 8 p.m., and Sunday at 3 p.m. For tickets, visit www.classicstage.org.