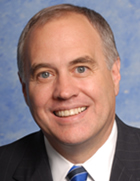 Twenty percent of state revenue comes from Wall Street, Comptroller Tom DiNapoli told Brian Lehrer during an appearance on WNYC this morning.
"That's corporate profits and that's personal income taxes from the people who work there—and much of that is paid out from the personal bonuses," he said. Budget projections until recently "follow[ed] a couple of years of really record bonuses."
"It's March 2008, obviously we're down, things are way off," he went on. DiNapoli predicted that—"barring some amazing turnaround"—bonuses will not bring the revenue the state has been relying on.
Lehrer asked DiNapoli how the state can even make predictions with as much volatility as the markets are currently experiencing.
"Well, you know, budgeting is much more an art than a science," he responded. "It's an educated guess at best."
DiNapoli's office is recommending that state lawmakers, when considering the budget, pay close attention to avoiding debt.
"We indicated that in 2007 that the kind of budget and spending commitments that were being made were not sustainable over the long haul," he said. "Too often we've relied on debt."
"Our strong recommendation," he added, "is that however the governor resolves this, he doesn't resort to debt."